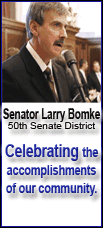 Tuesdays With Santa at the Lincoln Public Library are under way. Come sit on Santa's lap and tell him your Christmas wishes, write a letter for his mailbox, and receive a candy cane. Please register by calling 732-5732. The event is at the library annex and the hours are between 5-6:30 p.m.
---
Light Up a Life ceremony with the Abraham Lincoln Healthcare Foundation is Tuesday and this special event is open to the public. The event begins at 6 p.m. at the hospital at 315 Eighth St. in Lincoln.
---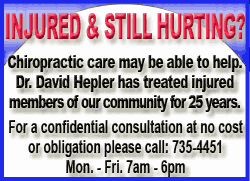 ---
Don't forget: Thursday, the city of Lincoln and Main Street Lincoln will be sponsoring this year's Christmas parade at 7 p.m. Stop by and get into the spirit.
---
The Elkhart Needs and Goals committee is sponsoring their bake sale and Santa arrival on Saturday, Dec. 6. The event will take place at the Elkhart Village Hall between the hours of 8-11 a.m. Santa's spokesperson says he plans to arrive at 9 a.m., so make out that list to drop off to Old St. Nick.
---
In case you can't wait to see Santa in Elkhart, there is always the Jaycees' annual Breakfast with Santa on Saturday between 9 a.m.-noon

at the Lincoln Masonic Center, 2022 N. Kickapoo. Have breakfast with Santa and tell him your Christmas wishes. Pancakes and sausage, juice, and milk will be served. Kids 10 and under eat free.
---
Saturday is also the Christmas open house at Postville Courthouse, sponsored by the Postville Courthouse State Historic Site. The public is invited to attend this event at 914 Fifth St. between noon and 4 p.m.
---
The Elkhart Historical Society is having their Christmas Candlelight Service at St. John the Baptist Chapel in Elkhart on Saturday, Dec. 6. The public is welcome and can call 217-947-2238 for reservations. The service times are at 2, 4, 5:30 and 8 p.m.
---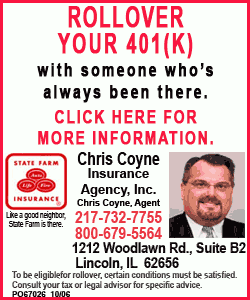 There will be a Tour of Homes on Saturday, Dec. 6, from 4-7 p.m. in Mount Pulaski. Tickets may be picked up at Salt Creek Attic or Botanica (both on the square). Then Santa will be coming to the courthouse at 7 p.m. He will have story time, followed by time for visiting with him. The city of Mount Pulaski is sponsoring the "Guess How Much Money is in the Jar" contest for children age 10 and under at the courthouse while Santa is there. (The winner will be announced at the Dec. 9 council meeting.) Mount Pulaski businesses will also be open.
---
Carroll Catholic School will host their Breakfast and Christmas Bazaar on Sunday, Dec. 7. The public is welcome and tickets are available at the door. There will be a self-serve breakfast buffet, raffle table, theme baskets, cash drawing, Cookie Corner and Sweet Shoppe, books, children's crafts, and more. Santa Claus will make a visit to the bazaar. Gee, he is one busy guy!
The school is at 111 Fourth St. in Lincoln and the event's times are 7:30 a.m.-noon.
---
The Harvest of Talents for World Hunger is sponsoring a Holiday Home Tour on Sunday, Dec. 7. The event is open to the public. Tickets may be purchased in advance at Lincoln Christian Church, from Harvest of Talents Ministry Team members, Jefferson Street Christian Church, Regions Bank and Cape Landing, or at home sites on the day of the tour. All proceeds will go to the Harvest of Talents for World Hunger to meet hunger needs worldwide.
The homes on the tour are: Barry and Julie King, 1008 Broadway St.; "Chub" and Barb McCubbin, 229 N. Union St.; Keith and Jeaneen Ray, 7 Oakwood Drive; John and Sheema Wahab, 5 Fairway Lane. Postville Courthouse will be decorated with greens and period ornaments and open for viewing during the home tour. The tour will run from 1-4:30 p.m.
---
Got a good piece of news, information or something that we can all brag about? If you do, e-mail Mike and let us tell everyone about it. Plus you can win cash. Every submission, whether we use it or not, will get your name in the "Close Up" grab bag. At the end of the month we will draw a name and someone will get $25.00 just for dropping us an e-mail. If you wish, we will be happy to donate your winnings to the organization of your choice.
You can contact Mike at mikefak@lincolndailynews.com.
[By MIKE FAK]