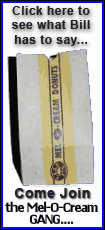 RIM said it has added fewer new subscribers than expected as the economy slowed. The news, which came amid predictions that retail sales fell in November, had investors worrying again about the impact of the recession on consumer spending -- spending that is crucial for the economy to recover.
The stock market rebounded Tuesday from the previous day's sharp decline, as investors found solace in some heartening news from both Ford Motor Co. and General Electric Co. Ford Chief Executive Alan Mulally said the automaker has enough cash to make it through 2009 and might not need government help, while General Electric encouraged investors by maintaining its dividend.
But the market cannot hold on to any upbeat news for long, and more volatility is expected for the forseeable future, especially as economic data keep pointing to weakness.
The Labor Department will release revised productivity figures for the third quarter at 8:30 a.m. EST, while the Institute for Supply Management will release its non-manufacturing index at 10 a.m.
Wall Street expects productivity growth slowed sharply in the July to September quarter, reflecting the fact that the overall economy was declining during that period.
Meanwhile, the Institute for Supply Management's monthly measure of the U.S. services sector is expected to fall, following a report earlier this week that its sister manufacturing index fell to the lowest level in 26 years.
Wall Street economists surveyed by Thomson Reuters predict that the trade group will report that its services index fell to 42 in November from 44.4 in October.
While analysts largely believe that much of the bad news is already priced into the market, investors are worried about the impact of a severe and prolonged recession, so any discouraging news could further sway the market downward. With retailers reporting their November sales figures on Thursday and the government's employment report due Friday, the market is likely to see some rocky trading in the next few days.