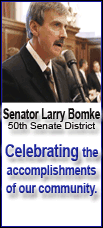 The national labor productivity report tracks how well companies are doing, across the economy, at getting more out of their workers. Greatly simplified: If factories have retooled to operate more efficiently, productivity increases. If too many workers are at their desks playing "Minesweeper," productivity falls.
The Bureau of Labor Statistics reported Wednesday that productivity rose in the third quarter. But the details of its report weren't pretty.
Here are some questions and answers about productivity.
Q: Why is productivity important to the economy?
A: Advances in productivity mean businesses are producing more with the same or fewer hours worked by employees, making improved productivity a significant source of potential national income.
"The U.S. economy has been able to produce more goods and services over time, not by requiring a proportional increase of labor time, but by making production more efficient," the Bureau of Labor Statistics, which produces the productivity numbers, explains on its Web site.
If rising wages and benefits outstrip productivity improvements, that can spark inflation, as businesses are forced to increase prices to cover higher costs. If workers are more productive, though, businesses are able to raise pay, covering the costs with income from increased output of goods and services.
During a recession, output falls, which hurts productivity. In such times, rising layoffs tend to keep wages from going up -- which is what seems to be happening now.
Hours worked dropped 3.1 percent at non-farm businesses in the July-to-September quarter from the prior quarter, but output fell a smaller 1.9 percent. So, workers are working far fewer hours to produce slightly less. As a result, productivity rose at an annual rate of 1.3 percent in the quarter, the weakest showing since the fourth quarter of 2007.
Q: How is productivity measured?
A: The bureau's quarterly reports on productivity split the economy into segments. The most important is non-farm business, which comprises roughly 75 percent of the total economy.
The bureau first calculates total output for non-farm businesses. Instead of counting every car that rolls off an assembly line and every lawn mowed by a landscaping crew, the government uses total gross domestic product figures -- the broadest measure of the economy -- and subtracts output generated by farms. It also subtracts output generated by the government, nonprofits, employees of private households and the rental value of owner-occupied homes.