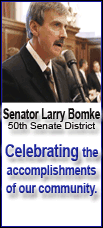 Today's highlight in history:
On Dec. 4, 1619, a group of settlers from Bristol, England, arrived at Berkeley Hundred in present-day Charles City County, Va., where they held a service thanking God for their safe arrival. (Some suggest this was the true first Thanksgiving in America, ahead of the Pilgrims' arrival in Massachusetts.)
On this date:
In 1783, General George Washington bade farewell to his officers at Fraunces Tavern in New York.
In 1816, James Monroe of Virginia was elected the fifth president of the United States.
In 1875, William Marcy Tweed, the "Boss" of New York City's Tammany Hall political organization, escaped from jail and fled the country.
In 1918, President Woodrow Wilson left Washington on a trip to France to attend the Versailles Peace Conference.
In 1942, U.S. bombers struck the Italian mainland for the first time in World War II.
In 1942, President Franklin D. Roosevelt ordered the dismantling of the Works Progress Administration, which had been created to provide jobs during the Depression.
In 1965, the United States launched Gemini 7 with Air Force Lt. Col. Frank Borman and Navy Cmdr. James A. Lovell aboard.
In 1978, San Francisco got its first female mayor as City Supervisor Dianne Feinstein was named to replace the assassinated George Moscone.
In 1991, the original Pan American World Airways ceased operations.
In 1996, the Mars Pathfinder lifted off from Cape Canaveral, Fla., and began speeding toward Mars on a 310 million-mile odyssey. (It arrived on Mars in July 1997.)
Ten years ago: Space shuttle Endeavour and a crew of six blasted off on the first mission to begin assembling the international space station.