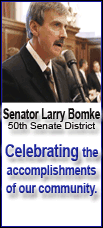 All of the lobster's excess appendages worked.
Marks trapped the mutated animal about 60 miles south of Newport and hauled her up on Monday.
Marks told the Newport Daily News he sometimes lets lobsters go out of guilt when they look at him funny.
So after showed off the multi-clawed lobster for most of the day, he let her go. She weighed 1.5 pounds and could have sold for $7.50 retail.
___
Information from: The Newport Daily News