The Lincoln Public Library is located at 725 Pekin St., with adult nonfiction and reference materials in the historic Carnegie Building. In the Annex Building directly behind are adult fiction and the Youth Services Department. All library events are free and open to the public. On the Web, visit www.lincolnpubliclibrary.org.

Hours are Mondays, Wednesdays and Fridays, 9 a.m.-5 p.m.; Tuesdays and Thursdays, 9 a.m.-7 p.m.; and Saturdays, 9 a.m.-1 p.m. Phone 217-732-8878 for adult services and 217-732-5732 for youth services.

Library notes

Send a link to a friend
[December 05, 2008] Holiday crafts: Come make a take-home craft project! Eight- to 12-year-olds can make Christmas ornaments in a class on Dec. 11 at 3:30 pm. Call 732-5732 to register, as this class is limited to 20 children.
Holiday books and DVDs
The library has a large selection of children's Christmas books. The library also has DVDs such as "A Charlie Brown Christmas," "Frosty the Snowman," "The House Without a Christmas Tree," "How the Grinch Stole Christmas," "Mr. Magoo's Christmas Carol," "The Night Before Christmas," "Prancer," "Rudolph the Red-Nosed Reindeer," "Santa Claus Is Comin' to Town," and "Thomas & Friends: Ultimate Christmas."
Holiday closings
The Lincoln Public Library District will be closed the following dates for the holiday season:
Teddy Bear Picnic
The library's annual winter "indoor picnic" will be Jan. 17, from 10 to 11 a.m., in the downstairs Pegram Room of the Carnegie Building. This popular event features stories and a picnic snack fit for a bear -- a honey sandwich, teddy grahams and juice -- that can be shared with your favorite stuffed animal! The highlight will be a visit from a bear character that all the children will love to meet. Parents, be sure to bring your camera, as this is a sweet, old-fashioned party. This "picnic" is for children up to 8 years old. Call 732-5732 to register. Registration closes Jan. 15.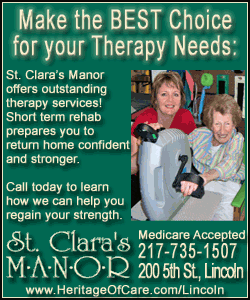 Story time and craft time
The library's story time groups are Little Listeners Lapsit, for age 6 months to 2-year-olds; Beginning Book Buddies, for 3- and 4-year-olds; and Ready Readers, for 5- to 7-year-olds. Seven-week sessions are offered in the winter, summer and fall. Craft classes are for 8- to 12-year-olds and follow the same schedule as story times.
Upcoming events
Check back for information on upcoming events, such as the winter session of children's story times and craft classes beginning in February.
Live Homework Help
Log on to www.lincolnpubliclibrary.org to get help from a live tutor. The one-on-one help is available to kindergarten through adult learners in math, science, English, social studies and writing. Use your Lincoln Public Library card number to enter.
[Text from file received from Marlene Perry, Lincoln Public Library District]