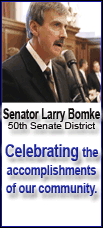 On Sunday, Dec 7 the Immanuel Lutheran Church Choir will present the Christmas Cantata. The church is located at 1409 Pulaski Street in Lincoln and the event starts at 7:00 pm. A reception will be held following the program in the fellowship hall. The public is cordially invited to this special Christmas celebration.

---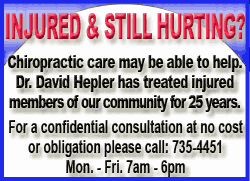 ---
Community Claus is a cooperative project between the various businesses, individuals, civic groups and area churches who work together to provide Christmas gifts and support for needy families in the Minier and Armington areas.
The program name Community Claus exemplifies the fact that a large number of people in the communities have taken an active part in this important project to help those in need.
The Community Claus committee raises money to purchase gifts and also receives donations of clothing, toys, food, gift cards, and other items to be distributed to the needy. Donations of gifts can be dropped off at the Minier FS Fast Stop, Minier Community Bank, or the Armington Village Hall. Once the gifts are wrapped, Minier-Armington police officers and staff members from the Olympia West Elementary School deliver gifts to help Santa at his busy time of year.
Many families have been referred already this year. The Community Claus Committee is seeking referrals for those in need and help to wrap gifts. For further information about how you can assist with the Community Claus, contact Chief Daryl Weseloh at the Minier-Armington Police Department at 309-392-2442 or Char Dial at the FS Fast Stop at 309-392-2638.
---
'Tis the Season Luncheon. About 150 women and men recently attended the annual 'Tis the Season luncheon and card party, a fundraising event of the Abraham Lincoln Memorial Hospital Auxiliary, held at the Elks Country Club.
A tradition in the community, the luncheon this year featured live music and prizes. Most importantly, all of the money raised through 'Tis the Season benefits Lifeline, a personal response service worn as a pendant or wristband that allows older adults to quickly contact emergency services.
"This year the need is very great, as we are required to upgrade software for all of the units," explained Lynne Metz, director of volunteer services at ALMH. "We are fortunate to have auxiliary programs and so many giving individuals who help support Lifeline."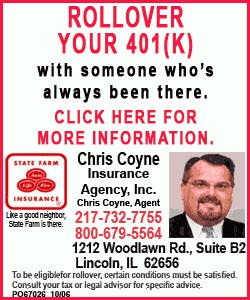 ALMH Auxiliary event profits also help fund the purchase of new Lifeline units and replacement batteries. ALMH staff members install, maintain, and educate the user and family members in homes and apartments throughout Logan, DeWitt, and eastern Mason Counties. In addition to ticket sales, money was raised through generous sponsors.
The major sponsor was Thrivent Financial for Lutherans. Table sponsors were Century Dental Center, Fricke-Calvert-Schrader Funeral Home, John and Frankie Guzzardo, Atty. John Gehlbach & Joanne Gehlbach, Lincoln-Chrysler, Dodge, Jeep, Inc., Lincoln Elks Club, Logan County Farm Bureau, Logan County Treasurer Mary Bruns, Lincoln Land Communications, Inc., MKS Jewelers, Ltd., NAPA Auto Parts, Peasley Funeral Home, Dr. and Mrs. Don Sielaff, State Bank of Lincoln and Thrivent Financial for Lutherans-Linda Aper.
For more information about obtaining a Lifeline for you or your family, contact the volunteer and special services Department at 217-732-2161 ext. 75185.
---
Christian Child Care is having a great fundraiser to earn money for their entrance key pads. A lightning storm knocked them out and they need to raise funds for the repairs. For $20.00 Jennifer DiPasquale is making the most amazing and yummy Yule Log Cakes for Christmas. They can be chocolate or yellow cake and have chocolate, vanilla or berry filling. It is a wonderful tradition to start for your family! They will be ready on December 23rd! The number to call to order your cake or cakes is 217-732-5750.
---
Lincoln AMVETS Post #71 with the assistance of the Women's Auxiliary will again be presenting gifts to those veterans residing in three local nursing homes. The event will take place on December 22.
AMVETS also reports that 2,192 bricks have been laid in the Veteran's Honor Roll. This is a very good time of the year to remember your veteran(s) with the purchase of a brick in their honor. Application forms are in the container at the park across from the newly filled directory.
---
Got a good piece of news, information or something that we can all brag about? If you do e-mail Mike and let us tell everyone about it. Plus you can win cash. Every submission, whether we use it or not, will get your name in the "Close Up" grab bag. At the end of the month we will draw a name and someone will get $25.00 just for dropping us an e-mail. If you wish, we will be happy to donate your winnings to the organization of your choice.
You can contact Mike at mikefak@lincolndailynews.com.
[By MIKE FAK]