YMCA notes

Send a link to a friend
[December 06, 2008] Active Older Adults Walking Program is offered at the YMCA Activity Center, 719 Wyatt Ave., on weekdays, from 6:30 to 9:30 p.m. There is no charge for this activity, but all participants must register through the office. Participants must also sign in daily at the gym prior to walking. Call the YMCA office if you have questions.
The YMCA is opening its gym on Thursday evenings, 7-8:30, for the adult basketball program called Hoop It Up! There is a small fee for this program, and YMCA members receive a 50 percent discount. New teams are created each week. So come out on Thursday nights for some fun and fitness.

The Lincoln Area YMCA wants to provide safe and affordable trips to the 24th annual East Peoria Festival of Lights. The YMCA van will take 13 participants and two staff to East Peoria for dinner and a tour of the holiday light show, which is a two-mile drive in the VFW Post 2078 Park with lighted attractions. These trips are for ages 8 to 11 and a special adult trip for anyone 18 and over. Space is limited. Hurry, sign up for these fun trips now! Waiting lists will be established. Call for more information on dates and fees.

When school is out for the winter break and you need a fun, safe place to take your children, the Lincoln Area YMCA has you covered! During School Out Fun Days the children will play games, create arts and crafts, get lessons on character development, and read books. On select days, there will be special guests visiting the YMCA from Audra's Studio of Dance, Chris Grey from the Lincoln College Theatre Department, Logan County Department of Public Health, plus more! Don't miss out on these Fun Days; register now! Space is limited to only 36 participants and registration deadlines apply.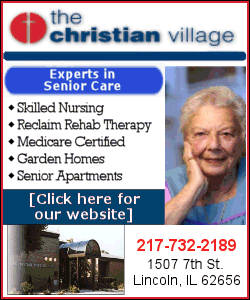 Registration for the YMCA Girls Basketball League will run until Dec. 23, with the season beginning in January. Registration fees will increase by $10 after Dec. 23. The Y is looking for teams from the surrounding area to participate in the fifth- and sixth-grade league. This should improve the competition and learning for the girls. Come register your daughter, so she may take part in this exciting learning experience. Thanks to the folks at Logan County Bank and Graue Inc. for their generous sponsorship of this worthwhile program.
The YMCA is hosting Preschool P.E. classes for children age 3 through preschool on Tuesdays and Wednesdays, 11 a.m.-noon, throughout the school year. Each day the children are taught a character development lesson, do warm-ups and play a fun gym game. Participants may start at the beginning of each month. Sign up your preschooler today for some social and physical growth.
The next Special Art Day at the Y Activity Center will be Jan. 19, 9:30-11 a.m. Children in first through sixth grade will learn about color and will design a tie-dye T-shirt during class. Participants should dress in old clothes for this class and must bring a white T-shirt to class for the project! Class fee increases $3 after Jan. 12.
For more information on Lincoln Area YMCA programs and events, contact the downtown office, 604 Broadway St., Suite 1; visit www.lincolnymca.org; or call 735-3915.
[Text from file received from Lincoln Area YMCA]