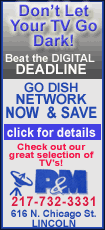 Retiring Illinois Senate President Emil Jones, a Democrat from Chicago, mentioned his interest in the position Friday during a taping of WBBM Radio's "At Issue" program.
Gov. Rod Blagojevich will select Obama's replacement, and Jones is a longtime ally of the Democratic governor.
Jones, who is black, says the vacancy should be filled by an African-American.
Blagojevich has said he'd like to make an announcement before Christmas.