City briefs
Washington bailout resolution passes
City squad cars to be purchased locally; and more

Send a link to a friend
[December 06, 2008] Mayor Beth Davis-Kavelman called the Dec. 1 meeting of the Lincoln City Council to order. Seven members of the council were present, with Verl Prather, Jeff Hoinacki and Melody Anderson being absent.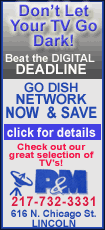 Council moves forward with resolution opposing bailouts
Council members approved that a resolution be written to the representatives in the U.S. Congress in opposition to the federal bailouts. Wanda Lee Rohlfs made the motion, with the second coming from Marty Neitzel.
During the discussion period, Rohlfs pointed out that in a recent issue of Nation's Cities, a weekly newsletter published by the National League of Cities, there was an excellent article saying that it was time for some of these bailout funds to come back to the hometown projects. She said that there are many projects that have been put on hold for years, and it is time that the funds do come back to the communities.
She credited Verl Prather for bringing this topic to light at the workshop meeting on Nov. 25, saying that he brought it to the board very nicely, and she agreed that it was certainly appropriate for the city of Lincoln to write this resolution.
When brought to a vote, the request for a new resolution carried with a vote of 5-2, with Buzz Busby and Dean Henrichsmeyer voting no.
Bids -- new police vehicles
All seven members of the council voted yes to a motion made by Kathleen Horn and seconded by Busby that the bid for two 2009 police cars at $50,936 submitted by Jim Xamis Ford be accepted. During the discussion period, Horn stated that funds for the purchase would be coming from the general operating fund combined with the capital projects fund.
Presentation of petitions -- tree removal
First order of business for the evening was a vote on a petition for tree removal at 708 Lincoln Ave. The motion was made by Rohlfs to grant the petition, seconded by David Armbrust and carried with a unanimous vote.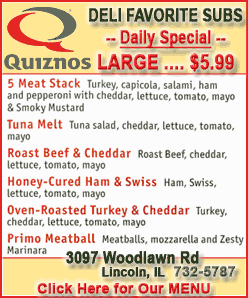 Communication -- a letter from Gary Davis
City Clerk Melanie Riggs read to the council members a thank-you letter addressed to Tracy Jackson, street superintendent. The letter, from Gary Davis, expressed appreciation for the work done by the city crew in putting up signs directing the way to the First Presbyterian Church.
Crossing guard
Approval was given for a request to hire Ashley K. Buss as an alternate crossing guard.
Sewer line
A decision regarding adding the Campus View Drive sewer line to the city works was tabled.
Enterprise zone
Also tabled was an amendment to add the Elkhart mine to the Lincoln/Logan Enterprise Zone.
[By NILA SMITH]
Related links