Lincoln Emblem Club, Habitat for Humanity, Salvation Army, Cumberland Presbyterian Church, New Holland firemen and Jefferson Street Christian Church all make the Close Up
By Mike Fak
[December 09, 2008] Lincoln Emblem Club is sponsoring a Christmas Dance on December 14th at the Lincoln Elks' Lodge from 4:00 P.M. to 7:00 P.M. The dance is open to the public. Come and enjoy the music of the Kevin Turner Trio. Please bring your favorite hors d'oeuvres to share.
For more information or tickets, contact Betty Marvel at 732-8691 or Vera Wurth at 735-2416.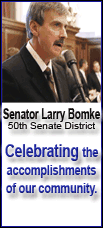 The local chapter of Habitat for Humanity/Logan County, will celebrate the 12th House Blessing and Dedication on December 14th at 3:00 p.m. at 1301 Lincoln Avenue – the corner of Lincoln and Hamilton. It will be at this time when the keys to the house are officially presented to the new owner, Adam Cheatham.

Steve Allen, Adam's mentor for the Habitat for Humanity program, will have the honor of handing over the keys to the house to Adam. Among the guests attending the Dedication will be Adam's supervisor from Eaton Corporation, Rick Wyatt; David Hoffer, Pastor at St. Peter's Lutheran Church, Emden; and the Habit for Humanity Board of Directors.

Adam has completed and exceeded the minimum required number of hours of sweat equity and volunteerism as part of the agreement between Habitat for Humanity and the new homeowner. As a new homeowner, Adam will be responsible for a 25 year mortgage on the house and will become a contributing, taxpaying resident of Lincoln/Logan County.

Adam invites the public to tour his home following the House Blessing to enjoy the refreshments provided by his friends from Lincoln College Food Service.
---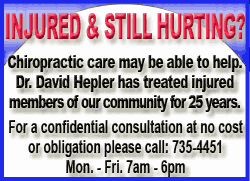 ---
Captain Dean Sanders of the Salvation Army in Lincoln has set a target of $27,000 for this year's Red Kettle Campaign This is an increase of $4000 over previous years. The Salvation Army is experiencing an increased number of families coming in and seeking assistance with rental and utility costs as well as life-saving prescription assistance. Their food pantry also has seen an increase in those needing help with providing food for their families.
A great need still exists for groups, families, and individuals to contact them at 732-7890 to volunteer to cover kettle sites between now and December 24. There are especially dates open during the week days. Shifts can be set up for am or pm time frames and usually last four or five hours.
---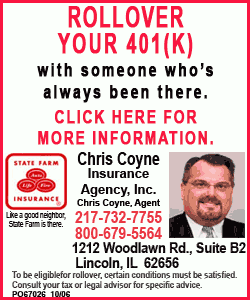 The Cumberland Presbyterian Church - corner of Broadway & Logan Streets, will have a Christmas Program Sunday, December 14th, at 6:30 p.m. His Majesty's Children will act out the Nativity. The program will also include musical selections as well. Refreshments will follow the program.
---
The New Holland Volunteer Firemen on December 13, 2008 will host Santa Claus at their fire department. The time is 1-3 pm and the public is invited.
---
"A Night in Bethlehem" sponsored by the Jefferson Street Christian Church, 1700 N Jefferson in Lincoln, will be Sunday, December 14. Walk with your family through the streets of Bethlehem on the night that changed the world. Talk with shopkeepers, shepherds, and even Mary and Joseph as you experience the Nativity story. Begin your Bethlehem experience at the new Worship Center entrance. The times are 5-8:00 pm.
---
Got a good piece of news, information or something that we can all brag about? If you do e-mail Mike and let us tell everyone about it. Plus you can win cash. Every submission, whether we use it or not, will get your name in the "Close Up" grab bag. At the end of the month we will draw a name and someone will get $25.00 just for dropping us an e-mail. If you wish, we will be happy to donate your winnings to the organization of your choice. You can contact Mike at mikefak@lincolndailynews.com.
[By MIKE FAK]