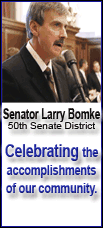 Rice meets Wednesday with ministers of countries that have signed such agreements with the United States. The one-day ministers conference is aimed partly at talking about ways that the benefits of free-trade agreements can be more broadly spread across societies to more sectors, such as small businesses and farmers.
The effort was launched in September when Bush met with leaders of trading-partner nations to talk about ways to consolidate progress on trade and look for ways to accentuate its positive aspects.
It is designed to "link trade and development and to ... ensure that the benefits of trade and the benefits of economic growth spread throughout our societies and reach the poorest and most vulnerable members," Thomas A. Shannon, assistant secretary of state for Western hemisphere affairs, said as he traveled Tuesday night to Panama with Rice.
Shannon said officials hope the initiative -- called Pathways to Prosperity in the Americas -- will become a forum at which nations can talk about other issues important to trade, such as health, education, the environment and labor practices. He called that "a conversation that's necessary."
Wednesday's meeting comes just weeks before the inauguration of President-elect Barack Obama. Prospects for future trade agreements are uncertain because of the new political winds in Washington.
Obama has cast a critical eye on some trade arrangements. His election has meant a boost for "fair traders," mainly Democrats and their allies, who for years have contended that free-trade policies of past administrations were recipes for job flight from America and environmental degradation abroad.
Critics of some past agreements have called for a moratorium on new pacts, something that could effectively sideline bilateral agreements with Colombia, South Korea and Panama. Those agreements have been negotiated but await congressional approval.