Atlanta Christian Church, St. John United Church, Park Meadows Baptist, Kathryn Arneaud, Humane Society, YMCA and park district all make the Close Up
By Mike Fak
[December 12, 2008] The Atlanta Christian Church will again be sponsoring a full evening of Christmas Celebration entitled, "A Night of True Christmas." This production has been well received since 2005, and promises to be even better this year! The evening will feature an outstanding musical program presented by the Atlanta Community Christmas Choir that everyone is sure to enjoy. Doors will open at 6:00pm and the Christmas Choir will begin singing at 6:30pm. There will be light refreshments served during an intermission, which will be followed by a performance of Kathleen Conner Combass's "The Jesus Stocking." The evening will bring great fun for all ages!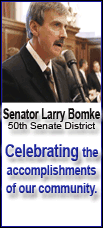 The program will be presented December 18th, 19th, and 20th at 6:30pm. Tickets are available at no charge by calling the church office at (217) 648-2464. If no one is available, please leave a message including your name, address, telephone number, night of the performance, and number of tickets requested. Tickets are also available for pickup at the Atlanta Country Market. Seating is limited and tickets are available on a "first come – first served" basis. As a courtesy, we request that you only take tickets if you will use them. If you cannot use them, please return them to the church office. We invite you and your family to come and share a part of your Christmas season with us!
---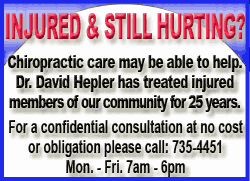 ---
The Christmas Cantata entitled "The Birthday of a King" will be presented at St. John United Church of Christ on Sunday, December 14th at 3:00 p.m. Members from St. John United Church of Christ, Trinity Episcopal Church and other area churches are presenting this cantata. The public is invited to attend this free cantata and listen to the music of the season. A social time will follow.
---

Park Meadows Baptist Church, located at 800 Memorial Park Road in Lincoln, would like to extend a warm invitation to attend a special presentation of the Christmas Cantata Drama, From Christmas to Calvary, Sunday evening, December 14, at 6:00 P.M.
Presented by the Park Meadows Baptist Church Choir and Drama Departments, From Christmas to Calvary acknowledges how too many of us get caught up in all the festivities of the Christmas season and brings our focus back to the true meaning of Christ's birth—that He came to earth with the purpose of dying on the cross for our sins.
---

Kathryn Arneaud, Zion Lutheran School 7th grader, has been selected as the Zion Lutheran November Student of the Month. Kathryn's ZLS activities have included honor roll, track and field, cheerleading, chimes choir, choir, volleyball, band and speech.
Church and community activities include Sunday school, confirmation, summer reading program, 4-H Junior Master Gardeners program, YMCA basketball, gymnastics, ballet, jazz and tap dance lessons.
Kathryn enjoys painting, photography, baking, gardening, caring for her dog, traveling, and spending time with friends.
Kathryn's parents are Robert and Marcia Arneaud of Lincoln.
---

The Humane Society of Logan County is having a bake sale on Saturday, December 13 at Graue Incorporated at 1905 N. Kickapoo in Lincoln. Select from an array of homemade cookies, pies, fudge and holiday treats to enhance your holiday festivities. All proceeds help the stray, homeless, abandoned and neglected animals of Logan County.

---

When school is out for the winter break and you need a fun, safe place to take your children, the Lincoln Area YMCA has you covered! During "School's Out Fun Days" the children will play games, create arts and crafts, get lessons on character development, and read books. On select days, there will be special guests visiting the YMCA from Audra's Studio of Dance, Chris Grey from the Lincoln College Theatre Department, Logan County Department of Public Health, plus more! Don't miss out on these Fun Days; register now! Space is limited to only 36 participants and registration deadlines apply. The number to call is 735-3915.
---

Happy Holidays to each of you from Lincoln Park District. Join them as they sponsor their Second Annual Holiday Home Outdoor Decorating Contest. You may enter online at www.lincolnparkdistrict.com or register by calling them at 732-8770. They will be judging on December 19 and will announce the winners December 22. Outdoor decorations will be judged on originality, complexity, and overall theme. All judges' decisions will be final. The first place winner will receive a one year Full Access Family membership, second place a 6 month Family Circuit membership and third place will win a 3 month Family Circuit membership. You must be registered by Thursday, December 18 in order to qualify.
---
Got a good piece of news, information or something that we can all brag about? If you do e-mail Mike and let us tell everyone about it. Plus you can win cash. Every submission, whether we use it or not, will get your name in the "Close Up" grab bag. At the end of the month we will draw a name and someone will get $25.00 just for dropping us an e-mail. If you wish, we will be happy to donate your winnings to the organization of your choice.
You can contact Mike at mikefak@lincolndailynews.com.
[By MIKE FAK]