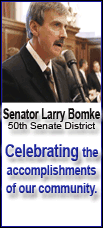 He was the first of seven people expected to stand trial on charges of illegally dissecting skin, bone and other parts from three dozen bodies being prepared for cremation at three Rochester-area funeral homes in 2005.
During a monthlong trial, the defense argued that a biomedical company in New Jersey called Biomedical Tissue Services sent Gano forged documents indicating relatives had given their consent. But prosecutors countered that Gano systematically allowed the company's employees to loot bodies without permission.
Jurors convicted Gano of 17 counts each of opening graves and body stealing, both felonies, and unlawful dissection, a misdemeanor, as well as one count of scheming to defraud. He was acquitted of charges related to the unauthorized removal of parts from six corpses. He faces up to 20 years in prison at sentencing Jan. 16.
Biomedical Tissue Services operated a satellite office in Brighton, outside of Rochester, and paid funeral homes a standard fee of about $1,000 to lawfully harvest body parts from a donor corpse.
Relatives of 23 people whose bodies were harvested from January to August 2005 testified that they either didn't give permission or gave limited consent for donations to Gano, who worked at Thomas E. Burger Funeral Home in Hilton.
The scandal emerged in February 2006 when Michael Mastromarino, who operated Biomedical Tissue Services, and others were accused of cutting up corpses from funeral homes in New York, New Jersey and Pennsylvania. The bodies included that of "Masterpiece Theatre" host Alistair Cooke.
The sometimes-diseased parts were sold and used in about 10,000 surgical procedures performed by unsuspecting doctors in the United States and Canada.
Mastromarino is serving a prison sentenced of 18 to 54 years for running the scam in New York and a concurrent sentence of 25 to 58 years after pleading guilty to hundreds of charges in Philadelphia last month.