Looking at the definition of volunteerism, it is obvious as Judy Awe sits and relates some of her life to us that a picture of her could have been included for illustration with the definition.

Judy, who has been in charge of the dining facilities at Friendship Manor since February of 2007, sat back and relaxed after preparing another great hot lunch for residents.

Sandwiches, soup that was more like a stew chock-full of veggies, and fruit were on today's luncheon menu.

Several times during the interview, a resident came up to tell Judy they really enjoyed their lunch. Every time Judy asked if they wanted a little more to take back to their rooms. The answer was always a "yes, please."

Judy takes her job at Friendship Manor as more than just preparing tasty, enjoyable meals for residents. Laughing, she said, "My pastor says this has become my ministry, and there is truth to that."

Awe explained the importance of drawing residents out into social settings and getting them to visit and chat with others.

Even in a residential setting where the staff takes diligent interest, seniors can often become reclusive and stay in their apartments too much. Looking forward to a good lunch or supper helps make sure that they get out and about and not only get a nourishing meal, but also maintain social involvement with others.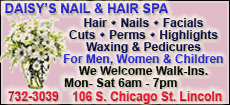 As the dining hall cleared, Judy explained her early years growing up in Lincoln. The daughter of Jack and Norma Jean Berglin, Judy started working after school at the Lincoln News Agency. After graduating from high school, she went to work at State Bank, where she was a bookkeeper. It was while there that she met her future husband of 40 years, Ted Awe, who also worked at the bank.
Judy related that the bank's policy at the time didn't care for spouses working together, and she and Ted were becoming serious. When a chance to take a job as administrative secretary at the District 27 school offices opened, she took it.
The next year, when Les Plotner became superintendent, she had an opportunity to become the district's bookkeeper and happily took that assignment. Awe worked at the school district for eight years, until her daughter was born, and then, as she says, "I became a stay-at-home mom."
Stay-at-home mom, however, was not what Judy stayed. Rather, it was at this time that she became actively involved in the community. "My mom loved Jennifer and she loved to watch her," Judy said. "So that gave me a chance to get out and do things in the community."
And do things is something that she has been actively doing ever since. "My daughter does point out I was never involved with Cub Scouts," Judy said laughingly.
Awe has been very active in health care issues, as well as the Abraham Lincoln Memorial Hospital, over the years. She has had a link with the health care provider going back to her first volunteer job, that as a candy striper at the hospital. Since then she has been involved with the ALMH Auxiliary, chaired the Hospice Advisory Council and has served for over a decade on the hospital's board. She has also been actively involved with the American Cancer Society.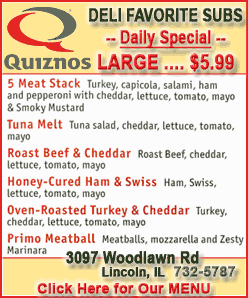 Although those activities would seem like enough for one person, Judy also has been involved with the Lincolnland Community Concert Association, Homemaker's Extension Council and is the president of the LCHS Foundation, which helps distribute scholarship money to graduating LCHS students.
Awe has also been an active member of the First Baptist Church, serving in a half-dozen capacities over the years at her church. She's been a member of Zonta for over 30 years and has co-chaired, along with her sister, Jan Sielaff, the well-known Zonta turkey dinner for so many years she's not sure when she took that over.
Over the years, during her little "free time," Awe has helped countless fund drives, community projects and given of her time whenever someone needed help. She's so involved that in 1999, when it was to be announced at a breakfast that she'd been chosen Citizen of the Year, friends had to go retrieve her from the county courthouse, where she was decorating the atrium's Christmas tree.
When Awe was asked to mention a memorable event she was involved with over the years, she had to pause as if sifting through the pages in her mind of all the things she has actively participated in within the community. She did relate an early event that was a model for not only her involvement, but as a guide to help others become involved as well.
When District 27 was having a fund drive to push for a tax referendum for the school district, she melded two concepts: to raise funds and to promote the district's needs. It was decided to have a chili supper, and rather than just go and buy all that was needed, Judy thought it would be better to ask parents, supporters and staff to bring in the necessary ingredients to make the chili. "It helped people have a part-ownership in the fundraiser," she said. "Even if they just brought in one can of chili beans, it meant they were involved."
Although Awe has spent a lifetime "involved in the ownership" of this community, she has been curtailing her activities. She isn't tired, she isn't ill. "It's just time for new faces and fresh ideas to become involved," she related.
It will take a great many fresh faces to replace Judy Awe and all she has done, and does do for this community.
[By MIKE FAK]