"Today we dedicate a new wayside exhibit for Atlanta, where Mr. Lincoln enjoyed valued and treasured friendships, pursued his passion for politics, and practiced his legal profession," said Hal Smith, director of the Looking for Lincoln Heritage Coalition, during ceremonies on Monday.

"This wayside depicts one of the famous 'Wide Awakes' banners, designed and carried in parades by Lincoln's campaign supporters in Atlanta. The banner pictured in the wayside hangs in the Lincoln College Museum in nearby Lincoln. These types of banners are reminiscent of campaigns of the day and help us to commemorate the special connection Lincoln had with Atlanta and Logan County.

"Lincoln visited Atlanta often and was close friends with the town's founder and one of its leading citizens, Thomas Gill. He often stayed at the Gill home when visiting Atlanta. It is widely believed that Lincoln also stayed the night in Atlanta, en route to the Freeport debate with Stephen A. Douglas, in the Senate race of 1858. Your ancestors and Lincoln's neighbors throughout central Illinois helped to shape Abraham Lincoln in his development as a man, a lawyer, a politician and a friend.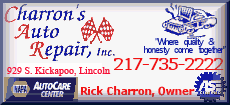 "The people of Atlanta were supportive of Lincoln in both the Senate race of 1858 and the presidential campaign of 1860. Lincoln's funeral train is said to have slowed in Atlanta during the early morning hours, passing before a large crowd and under a flowered archway placed over the track to pay tribute to the fallen president, as it traveled to Springfield following Lincoln's assassination. Stories like these will definitely enhance the experience of visitors when they explore this unique and quaint community."
Over the last several months, the Looking for Lincoln Heritage Coalition has provided an additional 46 new wayside exhibits in 25 central Illinois communities. The exhibits are a series of beautifully designed storyboards, complete with pictures, images and historical text, that tell unique stories about Abraham Lincoln and his connection to the Illinois communities in the newly designated Abraham Lincoln National Heritage Area. They are termed "wayside" exhibits because they are being placed along streets and sidewalks to make them more accessible to visitors.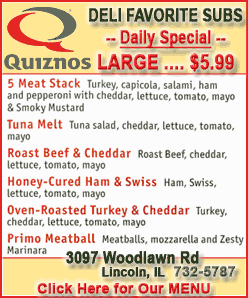 "The latest delivery of these wayside exhibits, including the one unique to Atlanta, are part of the second wave this year of new Looking for Lincoln storyboards for central Illinois, designed to enhance the visitor experience. By next summer, we plan to deliver a total of 210 of these exhibits to 50 communities to help them more vividly tell their own unique Lincoln story," according to Smith.
Other communities receiving wayside exhibits recently were Carthage, Charleston, Clinton, Danville, Decatur, Elkhart, Fountain Green, Homer, Jacksonville, LaHarpe, Lerna, Macomb, Mahomet, Mattoon, Middletown, Monticello, Mount Pulaski, Normal, Oakland, Petersburg, Pittsfield, Quincy, Rushville, Springfield, St. Joseph, Urbana, Vandalia and the village of DeWitt.
The Abraham Lincoln National Heritage Area, designated this year by Congress, is the only heritage area in America named for a U.S. president. It was designated to preserve, enhance and promote visitor experiences in the 42 counties in central Illinois where Lincoln lived for nearly 30 years. The Looking for Lincoln Heritage Coalition, which will manage the heritage area, is a consortium of Lincoln-related communities and sites whose purpose is to tell the stories about Lincoln that are unique to each site. The goal is to interpret and protect those sites while creating satisfying visitor experiences.
[Text from Looking for Lincoln Heritage Coalition file received from the Illinois Office of Communication and Information]