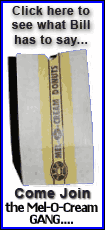 The 63-year-old LaHood, who fellow Illinoisan and President-elect Barack Obama is expected to select Thursday as his transportation secretary, would be the second Republican Obama invites to join his administration. Defense Secretary Robert Gates, whom Obama asked to remain in office, is the other GOP member tapped so far for the new Cabinet.
The transportation secretary would be a high-profile job in the Obama administration, especially early on. The president-elect vowed recently to create millions of jobs by making the single largest investment in national infrastructure "since the creation of the federal highway system in the 1950s."
LaHood has less experience in transportation issues than other contenders Obama reportedly considered, and many industry experts -- even in LaHood's home state -- were hard-pressed to say where he stood on specific issues.
"I'm quite surprised as he's not one of the names run by me earlier," said Aaron Gellman, a professor at Northwestern University's Transportation Center near Chicago. "But the fact he's not a known quantity shouldn't necessarily disqualify him."
LaHood represents a district around Peoria, the central Illinois city where he was born -- the grandson of a Lebanese immigrant and the son of a restaurant manager. After college, he taught social studies for six years at a junior high school.
In Congress, he gained respect for his grasp of parliamentary details, and he presided over impeachment hearings against then-President Bill Clinton in 1998.
LaHood was also in the forefront of efforts to make the floor of the House less partisan, and he sometimes ended up angering Republican leaders by refusing to follow the party line.
He and Democratic Rep. Rahm Emanuel -- another Illinoisan whom Obama has picked as his chief of staff -- often held dinners for small groups of lawmakers from both parties. LaHood explained earlier this year that the intimate dinners underscored something he believed in: That "to get things done on Capitol Hill, one must work in a bipartisan manner."