Zion Lutheran student council, Steffanie Richardson, Teresa Quisenberry and the Lincoln Public Library in this Close Up
By Mike Fak
[December 19, 2008] Zion Lutheran School's student council, along with tremendous support from ZLS families, donated more that 120 coats and other assorted warm clothing to need-based families at the Lincoln/Logan County Food Pantry.
The students plan to extend this drive through January and are accepting donations from anyone that would like to contribute. Please donate only new or gently used clean coats, hats, scarves, gloves, mittens and boots. Boxes for donations are located outside of the school office, located at 1600 Woodlawn Road. Please call 732-3977 or 737-1858 to make a donation or for more information. Thank you for your support.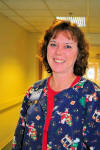 Abraham Lincoln Memorial Hospital is pleased to announce Steffanie Richardson as December Employee of the Month.

Richardson is a nurse who has worked on the Medical-Surgical floor at ALMH for three years. She received her associate's degree from Heartland Community College in 2002.

Her shifts at ALMH are spent caring for patients. Her nominator, Leslie Garvey, RN (Intensive Care), says Richardson is a great nurse, person and co-worker.

"She is always pleasant to her patients and families, is always available with a helping hand and never complains about her assignment," Garvey says. "She is a great person to work with, who gives excellent care. She goes the extra mile for her patients."

Richardson says she enjoys working at ALMH because everyone works well together, and they manage to have fun while getting their jobs done.

"Nursing is a great job," she adds. "You can work in many different areas of nursing. It is very rewarding to help someone when they are sick or hurt."

ALMH employs more than 290 in a wide variety of job functions. A different employee is honored each month for their commitment to creating GREAT patient experiences, getting GREAT results, and making ALMH a GREAT place to work.
---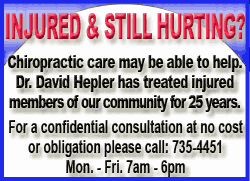 ---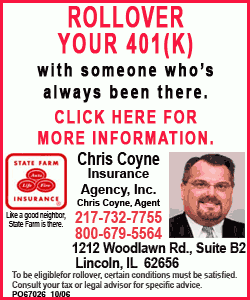 Teresa Quisenberry, a restorative aide, has been named "Employee of the Year," at The Christian Village.
"Teresa is smart, sincere, and compassionate," noted Charlotte Bennett, administrator at The Christian Village. "She truly exemplifies our mission in all that she does."
"Teresa is an advocate for our residents," Bennett continued. "The residents are her passion. She's also a problem-solver and a great team player."
Quinsenberry started at The Christian Village as a certified aide in 2004, and then was trained as a restorative aide.
The Christian Village offers a range of senior living options including garden homes, senior apartments, assisted living, skilled nursing care, Reclaim Rehabilitation and the Haven Center Memory Care Unit.
---

Holiday books and DVDs: The Lincoln Public Library has a large selection of children's Christmas books. The library also has DVDs such as "A Charlie Brown Christmas," "Frosty the Snowman," "The House Without a Christmas Tree," "How the Grinch Stole Christmas," "Mr. Magoo's Christmas Carol," "The Night Before Christmas," "Prancer," "Rudolph the Red-Nosed Reindeer," "Santa Claus Is Comin' to Town," and "Thomas & Friends: Ultimate Christmas. Stop by the library and get the whole family involved in great Christmas books.
---
Got a good piece of news, information or something that we can all brag about? If you do, e-mail Mike and let us tell everyone about it. Plus you can win cash. Every submission, whether we use it or not, will get your name in the "Close Up" grab bag. At the end of the month we will draw a name and someone will get $25.00 just for dropping us an e-mail. If you wish, we will be happy to donate your winnings to the organization of your choice.
You can contact Mike at mikefak@lincolndailynews.com.
[By MIKE FAK]