Family business and home destroyed
Community drive to help begins

Send a link to a friend
[December 22, 2008] The marquee at the nearby Lincoln Theater said, "The Day the Earth Stood Still." For Mike and Kathy Simonson and their two children, it was a day where their world didn't stand still but instead came to a startling and destructive passage.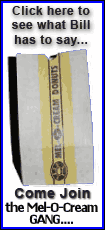 The fire in their home and business at 221 S. Kickapoo reportedly started just after 5 p.m. First responders from the Lincoln Fire Department arriving on scene initially had to help two second-story tenants at a neighboring building get out and away from the scene.
They then went into the structure looking for a second-floor stairway in hopes that the fire could be contained before it broke out and spread. Unfortunately it was already too late, as one firefighter stated they could hear the flames popping along the roof like a "hailstorm on a tin roof." Being confident that no one was in the building, they were directed to evacuate the premises.
Within 30 minutes, the fire made the building an inferno, fueled by wood flooring products, carpeting and other flammable items, causing the firefighters to direct their efforts at containing the fire and keeping it from spreading to adjacent structures.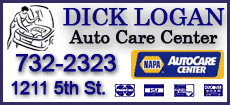 At first light it is obvious that the buildings on both sides of Simonsons' have extensive if not total damage. Buildings farther down the block of tightly knit structures, including the Lincoln Theater, were spared due to fire department efforts. It is uncertain at this time how much water and smoke damage occurred to local structures.
Power was shut off by Ameren workers shortly after 6 p.m., leaving the south side of the square in darkness.
All area fire departments came to the five-alarm call, including units from McLean County. EMA units as well as the Red Cross were on hand.
As of Saturday morning the structure, felled by the fire, was still smoldering, and Lincoln Fire Department personnel were still working on watering down the smoldering ruins.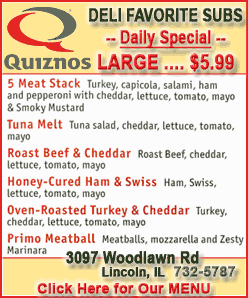 Circuit Clerk Carla Bender has advised this newspaper that she has begun a drive to help the Simonson family in this difficult time.
She asks that the entire community help by giving to the "Simonson Family Fire Fund."
She says checks can be directed to her at P.O. Box 158, Lincoln, IL 62656. Bender intends to start an account as soon as possible at the State Bank of Lincoln to handle the fund. The entire community is encouraged to help.
[By MIKE FAK]