There really is a tangible benefit for citizens of a community to shop locally, and shopping anywhere in town is good for everyone.
Barb Reinwald, president of Main Street Lincoln, said that the local trend suggests that the majority of customers are coming from neighboring communities such as Decatur, Springfield and Bloomington. As a result, downtown businesses are extending their hours through Christmas, in order to serve those last-minute shoppers.
In downtown Lincoln you can find well-known collectibles, as well as popular, locally made items. Whether your shopping needs lean to the sophisticated or to the practical, you'll find something for everyone. Downtown shops offer some of the best gift-giving merchandise you will find near or far.
And, don't forget to stop for a bite to eat and some local atmosphere at one of the many great food establishments scattered around the downtown area.
Also remember, if you can't make up your mind or would like to leave the choice of gift to the individual, you can always give a gift certificate.
Below are just a few of the popular places where merchants and their sales staff are hoping to serve you, their friends and neighbors, this holiday season.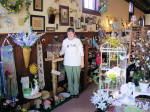 Reinwald welcomes those looking for that special gift to come browse her business, the Treasure Chest Gift Shop, located at 429 Pulaski St. The Treasure Chest has personable gift-giving items ranging from the quirky to the charming to the practical, and gifts can be found for any age.
The Treasure Chest offers a selection of many different craft items, glassware and many things that you will not find anywhere else, no matter how far you travel.
Another downtown specialty business in Lincoln's historic business district is Beans & Such. Located at 115 S. Kickapoo St., Beans & Such offers gourmet coffees, teas and gifts. Mary Lanterman, who is co-owner of the business with her son, David, says that vintage paper houses and handcrafted chalkware are popular gifts at the store.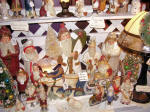 Chalkware is handmade in the U.S. and is "an early form of ways to mold figures," says Mary.
The popular shop is also known for their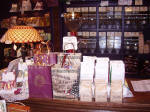 gourmet coffee holiday gift bags.
Across the square at 610 Broadway St., Mary Todd's Hallmark has several items that are popular sellers this year, including Jim Shore products -- "a huge hit," according to store owner Julie Tarter.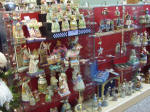 Other popular items include Yankee candles and Willow Tree figures, although Tarter notes that Willow Tree "seems to be big every year."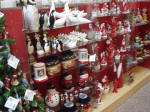 Mary Todd's is always open seven days a week. Tarter notes that, like most business owners, she was concerned about the economic news, but the store is bucking the trend. Business has been really good this year, and Julie is "very pleased."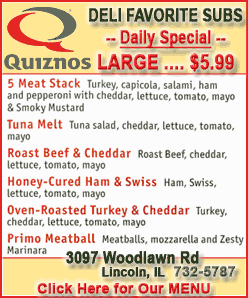 Helen Rainforth is owner of Abe's Carmelcorn Shoppe at 117 N. Kickapoo St., where the store sells lots of gourmet food baskets and bags, including their customized Abe's popcorn tins "filled with our homemade gourmet caramel and cheese corn."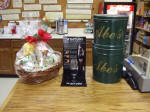 Another very popular gift item under $50 at Abe's is the Vinturi wine aerator, which provides instant decanting for your wine. The Vinturi has "taken the specialty food/wine industry by storm," says Rainforth. Let Abe's Carmelcorn take you by storm -- a truly incredible and yummy store in downtown Lincoln.
Next door to Abe's at 121 N. Kickapoo St. is Prairie Years, specializing in books, gifts and educational toys. Store employees note business has been nice and steady, and it always increases even more as Christmas gets closer. This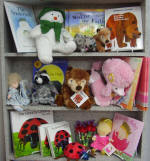 year, popular items include book and animal combos, such as author Eric Carle's books with a corresponding stuffed animal -- a great gift idea. Another very popular book series is the trilogy of "Twilight" books by Stephenie Meyer. Webkinz are also a hot item at the store.
Melody Shew, the owner of MKS Jewelers at 614 Broadway, noted that the very popular jewelry and gift store has now been on the square for 27 years. Melody says they have many hot items this year. One is chocolate freshwater pearls, which are very beautiful and different than standard pearls and start as low as $103 for a necklace.
Another very popular gift this year is Kameleon jewelry. These earrings, pendants and necklaces allow the stones to be easily removed and changed with other stones that are very reasonably priced as low as $18. This line of jewelry allows you to build a collection of jewelry without spending a great deal of money.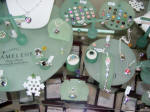 Other interesting and unique gifts MKS carries are serving platters. You can then buy various holiday medallions to interchange on the platters. This means you can have a holiday platter for any occasion while only buying one platter.
The above shops and their unique and special wares are just a sampling of the specialty stores that make up historic downtown Lincoln. If you have put off shopping until the last minute, downtown Lincoln is the place to find those special gifts that are sure to be a hit on Christmas.
[By GEOFF LADD]