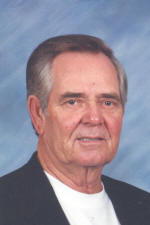 John A. Overbey

Send a link to a friend
[March 19, 2010] John A. Overbey, 74, of Lincoln passed away at 12:27 p.m. on December 25, 2008 at Memorial Medical Center, Springfield, Il.
Mr. Overbey was cremated. A memorial service and burial will be at a later date. Burial will be in St. Mary's Cemetery, Lincoln. Fricke-Calvert-Schrader Funeral Home in Lincoln is handling arrangements.

Mr. Overbey was a retired carpenter and plumber. He had worked for Webster Construction in Lincoln.
He was born to Ira B. and Myrtle McGeath Overbey on January 12, 1934 in Sikeston, Mo. He married Marian Ruth Pfeiffer on June 29, 1956 in Lincoln. She preceded him in death Dec. 4, 2003.

He is survived by two sons, Ronald Bree and Ralph (Nancy) Bree, both of Lincoln; two sisters, Joanne Overbey
and June Sprague, also of Lincoln. He had five grandchildren and five great grandchildren.

He was preceded in death by his parents, wife, three brothers and one sister.

Mr. Overbey was a member of Holy Family Church of Lincoln and a veteran of the U.S. army.

Memorials may be made to the Humane Society of Logan county

Fricke-Calvert-Schrader Funeral Home

Click here to send a note of condolence to the Overby family.