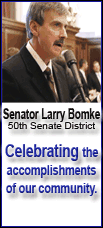 Bruce Pardo's ex-wife and her parents were believed to be among the dead. At daybreak Friday, investigators planned to resume searching what was left of their two-story home on a cul-de-sac in a quiet Covina neighborhood 25 miles east of Los Angeles.
Pardo, 45, had no criminal record and no history of violence, according to police, but he was angry following last week's settlement of his divorce after a marriage that lasted barely a year.
"It was not an amicable divorce," police Lt. Pat Buchanan said.
Investigators seeking further information about Pardo's motives have begun searching his home in the suburban Los Angeles community of Montrose.
Police said he showed up at his former in-laws' home around 11:30 p.m. Wednesday for their annual Christmas party.
The gift-wrapped box Pardo was carrying actually contained a pressurized homemade device he used to spray a liquid that quickly sent the house up in flames. Police said Pardo had recently worked in the aerospace industry.
David Salgado, a neighbor, said he saw the 8-year-old victim being escorted to an ambulance by four SWAT team members as flames up to 40 feet high consumed the house.
"It was really ugly," Salgado said.
Another neighbor, Jan Gregory, said she saw a teenage boy flee the home, screaming "They shot my family!"
A 16-year-old girl was shot in the back, and a 20-year-old woman broke her ankle when she escaped by jumping from a second-story window. Those two, and the 8-year-old, remained hospitalized. All were expected to recover.
When the fire was extinguished early Thursday, officers found three charred bodies in the living room area.
"They were met with a scene that was just indescribable," police Chief Kim Raney said. Investigators found five more bodies amid the ashes later in the day and planned to return Friday to continue looking.
None of the dead or missing has been identified. Authorities were unable to immediately determine whether the victims were killed by the flames or the gunfire.
Following the shootings, Pardo quickly got out of the Santa suit and drove off, witnesses told police. He went to his brother's home about 25 miles away in the Sylmar area of Los Angeles. No one was home, so Pardo let himself in, police said.