The area has been subject to a repeated dousing of ice, which has been mixed with every combination of moisture that could make matters worse: sleet, snow and rain. It has coated and recoated sidewalks, streets and trees, slowing some things and breaking other things. There was bitter cold and ice, more breaking things. Then came wind and ice, more breaking, more freezing rain on ice, melting and refreezing, making slicker ice and... more ice.

Finally, as the month was coming to a close, there were enough hours of warmer temperatures to thaw some of the traveling surfaces. However, there was no time to appreciate that bit of relief, as it was accompanied on Saturday by high winds and heavy rain -- rain that fell over still-frozen surfaces.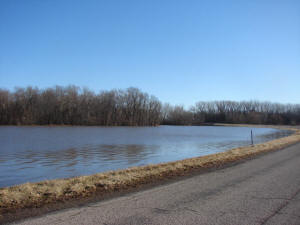 Kickapoo Creek north of Lincoln on Nicholson Road is well out of its banks Monday afternoon.
Though less visible now, ice is still a big player. Streams and creeks are now out of their banks and flooding is under way. Drivers should be cautious, especially in the country.
There have been broken branches, fallen trees, falling people, car crashes, damaged buildings, broken utility poles, downed lines.
The damage has led to multiple power outages, repeat cell phone outages and malfunctioning, and loss of Internet connections.
Saturday's wind and rains gave some already weary Logan County residents, emergency response teams and repairmen more work.
AmerenCILCO crews were out in force to address many power outages that occurred throughout the area, once again. Lines were downed by branches, building debris and by the sheer force of the wind that snapped poles.
First things were first: There were live wires on major roadways to address. Wires were reported down crossing Route 10 both to the east and to the west of Lincoln, near Middletown, and in Lincoln around homes and businesses.
In Logan County some repairs were completed by evening, some by midnight and others, including the New Holland and Atlanta areas, took 24 hours or a little more, as numerous broken or leaning poles needed to be replaced before power could be restored.
AmerenCILCO now reports that power has been restored to all of Logan County.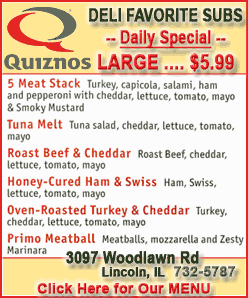 AT&T cell phone users have experienced variable usage in service at different times. In this round, as of Monday morning most callers could not get a connection to other AT&T users. A busy signal or wrong number recording would occur. Calls could be made to, or received from, landlines and other cellular services.
At CCA the main broadcasting tower for wireless Internet was broken by the high winds that passed through on Saturday. Minutes after the tower was felled, technicians began equipment recovery work and began strategizing the quickest manner to bring back service to their customer base in Lincoln and other parts of Logan County.
Representatives there said that they expect to have some wireless customers back up today, more tomorrow, and that most, if not all, could be back online within two to three days.
No one was available to speak with Monday morning at the Logan County Emergency Management Agency. Nor was there anyone available at the Lincoln sewer plant to speak with in regard to flooding or other damage that may have occurred this weekend.
Nearly every day of the last month, everything outdoors has been subject to either slipping, sliding, breaking, flooding or being blown away. Add in bouts of dense fog that came with the brief warming period the end of last week, and that about covers all the weather phenomena possible in the winter months here.
It's only a couple of days until January and a new year.
[By JAN YOUNGQUIST]