At the storm's height, roughly 12:30 p.m. Saturday, a "downburst" of wind of 70 mph went through the area, felling trees, lifting off roof shingles and downing utility lines, poles and causing another band of power outages.
This December had already suffered through three ice storms, below-zero temperatures and then rain on top of ice-coated streets before the balmy temperature storm came through on Dec. 27.
In case you don't recall, the year began with a snow and ice storm that left roads treacherous and slippery through New Year's Eve into the start of the year.
It seems that the inclement weather was just starting to tell us we would have long year ahead of us. Below is a recap by the National Weather Service of all that Mother Nature hit us with this past year.
Unseasonably warm weather quickly developed early in January. Temperatures reached the upper 60s to lower 70s and remained very warm overnight. In some cases, average daily temperatures were close to 40 degrees above normal on Jan. 6-7. Springfield had its warmest January night on record, with a low of only 57 degrees on Jan. 7.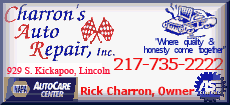 A strong cold front passed through the area on Jan. 29. Temperatures that had been in the 60s that afternoon fell to near zero by the morning of Jan. 30. Temperature falls of 20 to 40 degrees in only a couple hours were observed following the initial passage of the front.
The 2008 severe weather season started early, with the first outbreak on Jan. 7. Large hail and a few tornadoes occurred across the area, primarily along and west of Interstate 55. Strong tornadoes in this outbreak occurred as far north as southeast Wisconsin and northeast Illinois, areas which historically had only seen a few January tornadoes since reliable records began. The storms also produced 3 to 5 inches of rain, and combined with rapid snowmelt from a few days earlier, caused flooding on area rivers.
A significant winter storm affected central Illinois as the calendar changed from January to February. Areas along the I-55 corridor saw the heaviest snow. Some of the highest amounts occurred around Springfield, where totals of 10 to 13 inches were reported. Southeast Illinois saw a mixture of rain, sleet and snow, which kept accumulations to a few inches.
A series of Arctic outbreaks kept temperatures 10 to 20 degrees below normal for much of February.
Copious amounts of precipitation fell during the winter season. Amounts of 10 to 16 inches were observed roughly from Jacksonville northeast to Watseka. Several locations saw their second-wettest winter on record.
Ice storms affected southeast Illinois on March 3 and 4. A quarter-inch of glaze was reported in some areas, with a half-inch of sleet in Douglas County.
Very heavy rainfall affected the southern third of Illinois for a few days beginning on Saint Patrick's Day. Rainfall of 5 to 7 inches was reported along the Route 50 corridor, from Flora east to Lawrenceville.
While not weather-related, an earthquake occurred in southeast Illinois on April 18. Centered 22 miles south-southeast of Olney, the quake measured 5.2 on the Richter scale and was felt as far away as Georgia and Kansas. This was the third-strongest earthquake on record in Illinois.
Unseasonably strong low pressure tracked east across central Illinois on Mother's Day, May 11. The central pressure had fallen to 29.08 inches by the time the low reached Danville, having deepened 0.27 inches in only seven hours. This was close to a May record for low pressure values across the area. As the low pulled away, winds intensified later that day. Gusts of 40-55 mph were common, with 60 mph gusts near Decatur and Springfield. This caused many power outages.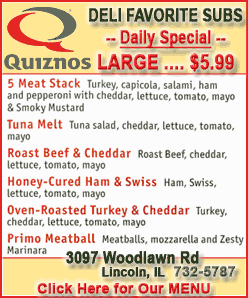 Severe weather on May 30 produced extremely large hail in some areas. Softball-size hail was reported near Philo, in Champaign County, and some hail near Springfield was larger than baseballs.
A major rainstorm affected east-central and southeast Illinois on June 6-7. A cooperative observer in southern Clark County reported over 9 inches of rain in only 24 hours. Five to seven inches of rain was widespread as far north as Douglas County. Excessively heavy rain also extended eastward into Indiana. This resulted in copious amounts of water flowing down rivers in southeast Illinois. Several levees failed along the Embarras and Wabash rivers as water levels reached record stages, resulting in widespread overland flooding. Record crests were reported on the Embarras River at Ste. Marie and Lawrenceville.
June rainfall in excess of 8 inches was common along the I-72 corridor and south to I-70, where monthly totals of 10 to 16 inches were found.
July was another wet month across the region. Much of central and southeast Illinois saw precipitation at least 150 percent of normal. Lincoln reported 11 inches of rain during the month, and Springfield had 9.45 inches, both establishing their third-wettest July on record.
In contrast, August was much drier, with rainfall of one-half to 2 inches for the entire month. After the wet July, Lincoln had its fifth-driest August on record.
The area was affected by the remnants of two hurricanes during September. The remnants of Hurricane Gustav produced very heavy rain on Sept. 3-4, mainly from 2 to 5 inches, although areas south of I-70 mostly saw less than an inch. Then from Sept. 11-14, the remnants of Hurricane Ike tracked toward the Ohio Valley. Three-day rainfall totals of 4 to 8 inches were common. The center of the storm tracked from St. Louis to northern Indiana on Sept. 14 and resulted in wind gusts over 40 mph east of the track. The Lawrenceville Airport saw winds gusting to 61 mph that day.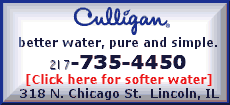 With the excessive rainfall, rivers were again in flood stage, and significant flooding occurred along the middle portions of the Illinois River. Crests on Sept. 19 of 31.0 feet at Henry and 27.0 feet at Peoria were their third-highest of record and were the highest levels observed since March 1982.
A winter storm began to affect the area late Thanksgiving weekend, bringing heavy snow to parts of the area. The early season winter storm wound down on Dec. 1. Snow totals of 5 to 7 inches occurred in areas from Peoria east to Bloomington.
Strong winds gusted 35-45 mph the weekend of Dec. 13-14. These south winds helped bring mild air into the area, with temperatures reaching into the 50s west of I-55 on Dec. 14. However, a sharp cold front was ready to enter the area, with temperatures falling over 40 degrees by Dec. 15.
The last two weeks of the year were again unseasonably cold, then warm, causing icing problems on streets and highways consistently through the last two weeks of the year, capped off with a 2-inch rain on Dec. 27.
[National Weather Service; LDN staff]