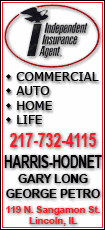 The proposed monument was to be constructed from the best quality American marble with a life-size figure of a soldier to be placed on top. The pillars were to have suitable room to include the names of 300 soldiers and their date of death as well as the company and regiment they served in.

The contract was awarded to Bushway and Baldwin, marble cutters, for $5,600.

The Logan County Board of Supervisors on Sept. 9, 1867, voted $3,000 from the funds of the county toward paying for the monument. The city of Lincoln also voted to issue $1,000 in city bonds for the same purpose, and individual contributions raised another $1,000 toward the cost of the statue. The board of supervisors then appropriated an additional $1,000 to ensure the monument be built and offered a space on the courthouse grounds for the statue to be placed.

Lawrence L. Stringer's "History of Logan County" provides this description:

The 23 foot-tall monument was completed in the spring of 1869, and was located north of the Court House. It consisted of two base stones, upon which rested the column with the names of 326 of the heroic dead, a small column resting on a plinth, and the whole crowned by a life-sized statue of a uniformed soldier "at attention."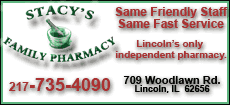 June 10 was set as the date for dedication. On that day, the monument was dedicated with appropriate ceremonies attended by thousands.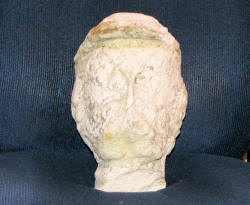 Short on looks but long on history. Courthouse security guard R.G. Meador brought the old soldier's head into the courthouse before it disappeared. (Click on picture for larger image.)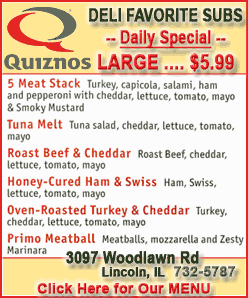 The monument was moved early in the 1900s. Stringer explains:
At the time of the erection of the present new court house in 1903, the reorganization of the grounds necessitated a change in the site of the monument. By this time, the elements had discolored the monument somewhat, and the Board had the entire monument cleaned and rehabilitated. They also relocated it on a site northwest of the court house midway between the building and the northwest corner of the court house square, elevated it upon two large bases of red granite, in the center of a wide cement sidewalk, all at a cost of about $1,000.
The statue was rapidly deteriorating for the past several decades as ice, cold and rain continued to damage the stone. For the last several decades, the soldier's face and the names etched into the stone had been lost with the ravages of time and Mother Nature.
Finally, on Dec. 27, the strong winds that chiseled their way through the square brought the old soldier down.
[Quotes and historical information from Lawrence L. Stringer's "History of Logan County"; LDN staff]