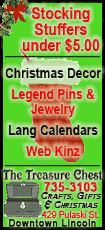 Earlier, the handful of markets open in Asia ended the year mixed. In Hong Kong, the benchmark Hang Seng Index rose 152 points, or 1.1 percent, to end at 14,387.48 -- 48 percent lower than when the year began. Australia's key index added 1.9 percent but stock averages in Mumbai, Shanghai, Malaysia and Singapore fell modestly. Markets in Japan, South Korea, Indonesia, the Philippines and Thailand were closed for the holiday.
In the U.S., Wall Street was set to close the year with a whimper, with futures markets mixed slightly after Tuesday's advance on the news that General Motors Corp.'s troubled financing arm received $5 billion of financing through the U.S. government's bank rescue program. The Dow Jones industrial average was predicted to open 6 points lower at 8,634 while the broader Standard & Poor's 500 index was set to open 0.2 points higher at 888.40.
The world's main markets will not reopen until Friday and investors will be hoping the year-end rally across the world augurs a change of fortunes in 2009, especially if a massive stimulus package from the incoming Obama administration makes the U.S. recession shorter than would otherwise have been the case.
2008 will go down as one of the worst years ever in stock markets as the credit crunch claimed a number of high-profile investments banks in the U.S. and brought the financial world to near-ruin. Governments and central banks intervened to shore up confidence but could not do enough to prevent the world's leading economies sliding into deep recession.
Among the world's major indexes, Japan's Nikkei index tumbled 42 percent during 2008, its biggest loss since its inception 58 years ago, while Britain's FTSE 100 was set to close around a third lower than a year ago, its worst year since it was created in 1984. Germany's DAX closed out 2008 Tuesday down around 40 percent on the year, its second biggest fall in 20 years.
In the U.S., where the financial crisis proved to be most acute following the collapse of the subprime housing market and the bankruptcy of such Wall Street luminaries as Lehman Brothers, the Dow Jones was poised to end 2008 around 35 percent lower on the year while the broader S&P 500 was set to end around 40 percent down.
Grim as those numbers are, they were even worse before a December rally. The FTSE 100, for example, is 20 percent higher than its October lows.
Most stock market observers think things are likely to get worse before they get better, as the start of 2009 will likely provide mounting evidence that the world economy is experiencing one of its worst recessions since the 1930s.