Logan County 2007 Crop Yields
Corn Up 26 Bushels an Acre
By John Fulton

Send a link to a friend
[February 15, 2008] As anticipated, Logan County had tremendous corn yields, and moderate soybean yields, substantiated by preliminary figures released by the Agricultural Statistics Service. The Logan County corn yield was established at 197 bushels per acre. This figure smashed the 171-bushel-per-acre yield achieved in 2006 and the former yield record of 189 bushels per acre from 2004. The Logan County 10-year average for corn yields is 166.3 bushels per acre (1998-2007). The top-yielding corn counties in the state were Woodford County with 204 bushels per acre, Sangamon County and Menard counties with 199, Warren County at 198, and DeKalb and Logan counties at 197.
Soybean yields dropped again at 50 bushels per acre in Logan County. The 2006 Logan County average was 52 bushels per acre, and the 2005 average yield was 53 bushels per acre. The 2004 crop is the soybean record, with a yield of 56 bushels per acre. The Logan County 10-year soybean yield average is 49.7 bushels per acre. The top-yielding county in the state for soybeans was Piatt County with 56 bushels per acre. Following Piatt were Douglas County with a yield of 55 and several counties with yields of 54 bushels per acre. Counties with 54-bushel averages listed in order of total production were McLean, Champaign, Vermillion, Woodford, DeWitt and Moultrie.

The top-producing county for corn was McLean County once again, with a total production of 77,224,000 bushels of corn. Livingston County unseated McLean County in total soybean production with 12,561,000 bushels of soybeans produced. Logan County production was 45,605,500 bushels of corn and 5,625,000 bushels of soybeans.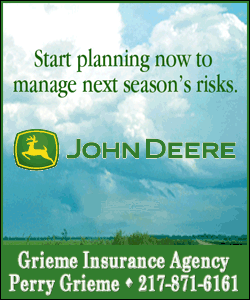 Wheat fell off the radar screen again in Logan County, as below 1,000 acres were harvested. Plantings were actually higher, but many area wheat fields were destroyed because of cold injury.
Following is a table for Logan County and surrounding counties, with 2007 yields in bushels per acre:
| | | | |
| --- | --- | --- | --- |
| County | Corn | Soybeans | Wheat |
| Logan | 197 | 50 | --- |
| Sangamon | 199 | 51 | 75 |
| Menard | 199 | 46 | 75 |
| Mason | 178 | 37 | 52 |
| Tazewell | 191 | 53 | 67 |
| McLean | 196 | 54 | 61 |
| DeWitt | 187 | 54 | --- |
| Macon | 191 | 53 | --- |
| (State average) | 175 | 43 | 57 |
[By JOHN FULTON, University of Illinois Extension, Logan County]