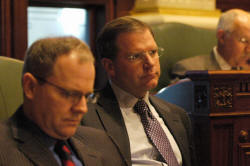 State Sen. Bill Brady, R-Bloomington, and state Rep. Bill Mitchell, R-Forsyth, (at left) listen to Gov. Rod Blagojevich's sixth budget address, presented to a joint session of Illinois lawmakers Wednesday in the chambers of the House of Representatives.
The 44th District senator says the governor's financial blueprint for the coming fiscal year relies once again on record-high state debt; a record-high backlog of unpaid bills; financial gimmickry such as leasing the state lottery; another pension bond sale and more raids from the Road Fund; and continued attacks on business.
"Families today, and our children tomorrow, are going to be paying for this governor's lack of real leadership in bringing fiscal responsibility back to Illinois," Brady said. "The governor's latest budget plan continues to leverage the future of our state. He is not addressing the critical issues of a nearly $1 billion revenue shortfall for the current fiscal year, nor our severely underfunded Medicaid system that is the result of pushing health care obligations from one fiscal year to the next, giving the false illusion of a balanced budget.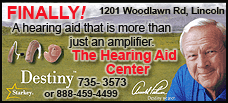 "I am sponsoring legislation, Senate Bill 1533, to address these 'Section 25 Liabilities,' estimated to be as much as $3 billion, and ensure more prompt payment to Illinois' doctors, hospitals and nursing homes," he added. "It is unfortunate that my legislation has not been released from the Senate Rules Committee and is being denied a hearing before lawmakers."
The 44th District senator also noted that a proposed $16 billion pension bond scheme would double state debt yet again -- it has already doubled to date, so this measure would mean state debt has quadrupled since fiscal 2003 -- and would provide opportunities for more "pay-to-play" abuses by the administration.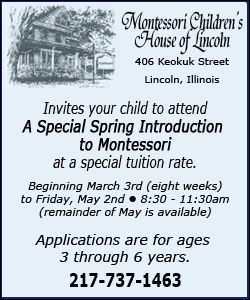 "The citizens of Illinois want an ethical government," Brady said. "But while reforms I have sponsored are being blocked by Democrat leadership, this budget offers more of the same old pay-to-play, including another $60 million in insider fees under their pension bonding plan."
Brady says Blagojevich continues to target employers and the jobs they provide, and the long-term effects of his policies show in state's lackluster job growth. Illinois is 45th in the nation in job growth since Blagojevich took office.
According to federal jobs numbers from December, Illinois has a 2.5 percent job growth rate, while Iowa has a 5.9 percent rate, followed by Wisconsin at 4.3 percent, Kentucky at 4 percent, Missouri at 3.9 percent and Indiana at 2.8 percent.
The 44th District senator says strong job growth -- not huge tax increases -- is a better way to address budget woes. If Illinois had kept pace with the national average in job growth, it would have more than 213,000 additional jobs today, which would mean more than a half-billion dollars in additional tax revenues.
Blagojevich outlined his $49.7 billion budget proposal for fiscal 2009 to a joint session of the General Assembly on Wednesday. Fiscal 2009 runs from July 1, 2008, through June 30, 2009.
Brady says the governor's budget proposal is the first step in a long negotiation process, and he looks forward to working with his fellow lawmakers to craft a fiscal plan that reflects the spending priorities of 44th District citizens.
[Text from file sent on behalf of Sen. Bill Brady by Illinois Senate Republican staff]