More Borrowing and Higher Taxes From the Governor

Send a link to a friend
[February 22, 2008] SPRINGFIELD -- Higher taxes and more borrowing are what Illinois taxpayers can expect this year from Gov. Blagojevich's budget, according to state Sen. Larry Bomke, R-Springfield. The budget address was given by the governor in the Illinois House chambers Wednesday as members of the General Assembly and press sat in attendance. (Governor's address)
"The people of Illinois deserve better than what this budget has to offer," said Bomke. "Our state is 45th in the nation in job growth since the governor took office, and that's simply not acceptable."

Among the initiatives proposed by the governor:
$417 million tax on jobs.

$250 million gambling tax hike.

$250 million from combination of additional tax hikes.

$1.2 billion borrowing of future revenue streams.

$16 billion borrowing of pension obligations.

$3.8 billion borrowing by raiding of dedicated funds, primarily the Road Fund.

$500 million in additional fund raids.

$10 billion-$12 billion from the sale of the state lottery.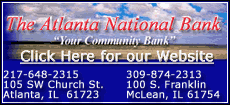 Bomke says that these numbers clearly show Illinois has a spending problem. "It is my hope that through a bipartisan effort, the legislature will be able to rein in this spending and prevent future generations of Illinoisans from dealing with the largest debt in state history," he said.
Illinois has lost over 60,000 good-paying manufacturing jobs since the state fell under one-party control in 2003. If the state had simply kept up with the national average, it would have over 213,000 more jobs today. That would mean over a half a billion dollars more in income and sales tax revenues, simply from putting people to work.
Nearly $1.7 billion in unpaid bills will remain on the books when the current fiscal year ends -- the highest backlog in state history.
The state comptroller has pointed out that from fiscal 2003 to fiscal 2007, Illinois has seen a 35 percent increase in income taxes and an 18 percent hike in sales taxes. The proposed $1.5 billion increase in general funds spending represents a one-year increase of more than 5 percent.
[Text from file sent on behalf of Sen. Larry Bomke by Illinois Senate Republican staff]