The later incident sent a young woman to the hospital with life-threatening injuries.

At 6:11 p.m., a northbound 2002 Jeep driven by Johnelle McDermott, 24, Carpentersville, was involved in a one-vehicle crash at mile marker 87 on I-55 south of Springfield. The Jeep she was driving rolled and came to rest on its roof on the east side of I-55.

McDermott remained in the Jeep. It is unknown if she sustained any injuries from that crash.

Then a Ford driven by Emily K. Whitlock, 22, Springfield, traveling on I-55 northbound, braked to avoid a semi changing lanes.

Whitlock lost control of the Ford and traveled off the east side of I-55. Whitlock's Ford then struck the left front of McDermott's overturned Jeep.

McDermott was removed from her Jeep and transported to Memorial Medical Center with life-threatening injuries.

Assisting agencies at this incident were the Illinois State Police and Chatham Fire Department.

There were no major injuries in an earlier five-vehicle crash that occurred at 4:29 p.m. at mile marker 94 at Stevenson Drive.

A 2007 Toyota driven by Mark Thompson, age 24, of Springfield was merging onto I-55 southbound from Stevenson Drive when Thompson lost control. The Toyota spun 180 degrees into the inside lane of I-55.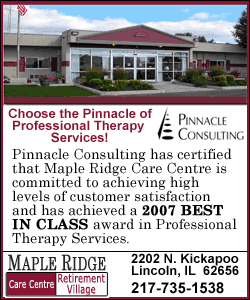 A 2008 Pontiac driven by Lauren Brandt, 17, of Sherman was traveling on I-55 southbound in the inside lane. Ms. Brandt slowed to avoid Thompson's Toyota and lost control.
Brandt's Pontiac struck a 2006 International semi traveling on I-55 southbound in the outside lane. The semi was driven by Brandon Feagons, 16, of Sherman and was struck on the driver's side.
The Pontiac then traveled across the median into the inside lane of I-55 northbound and struck a 2001 Chevrolet pickup head-on. The pickup was owned by the Illinois Department of Transportation and driven by Thomas Kulavic, 44, of Springfield.
Brandt's Pontiac continued into the outside lane of I-55 northbound and struck the rear wheels of a 2007 Freightliner driven by Ernie Gentry, 26, of Athens.
The Pontiac came to rest back in the median.
Brandt and a passenger, LeMandy Kim-Anh, refused treatment but were transported to St John's Hospital. This was done due to both not being of age to sign refusal of treatment.
Mark Thompson was issued citations for following too closely and operation of a motor vehicle with expired registration.
The public is reminded that anyone is presumed innocent until the charges are proven in a court of law.
[Illinois State Police; LDN]