Barb and her husband, Rich, moved to Lincoln in 1986, when Rich assumed pastoral duties at St. John United Church of Christ in Lincoln. He has been serving in that role ever since. The church has quite a history, going back to the ordination of theologian Reinhold Niebuhr, who is best known for his "Serenity Prayer," published in 1951. Over the years, Barb has played an active role in the church, including performing with the hand bells and choir, serving on the mission committee, work with memorials, working on special events, and joining several groups and clubs (women's group, card group, book club and stitchers' club).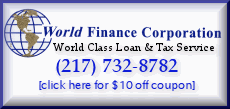 On Sept. 1, 2001, Barb opened The Treasure Chest, a craft and gift store, in Lincoln. The store was originally located at A. Lincoln Crafts on Sangamon Street and then moved next to Hallie's on the square. In February of 2004, she moved the store to the current location at 429 Pulaski St. The shop features items from 30 companies and from over a dozen local crafters. It is the only retail outlet in Lincoln for local crafters. The most popular featured national product line is from Manual Weavers & Woodworkers. Products from this line include mini plates, purses and tapestries, among others (see photo).
Reinwald was elected to the post of president at Main Street Lincoln on Jan. 30. She had previously served on the board of directors for the group for three years, and she worked on the promotions committee. She admits that this will be a period of adjustment for her, as she now will be dealing with all the various aspects of the organization. Her early goals are to keep promoting the historic downtown shopping district.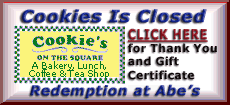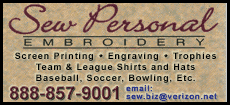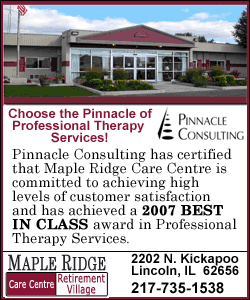 Reinwald brings her hands-on experience as a downtown business owner to the new position. She notes that, from this perspective, some of the main issues that downtown businesses face are limited parking and getting more local people to shop. Over 50 percent of her business comes from out-of-town customers, the majority being from Springfield and Decatur. "We have a fantastic downtown area, but we need more Lincolnites to shop here," says Reinwald.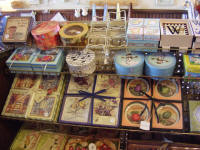 Another issue facing the downtown is the loss of businesses. Five stores have closed their doors in downtown Lincoln in the last two years. "We definitely need to get these businesses filled up," says Reinwald, who also noted at the same time that Lincoln still has one of the better downtown shopping districts around.
Barb and husband Rich moved to Lincoln from Missouri on April Fools' Day in 1986. Barb was born in Indianapolis. The Reinwalds recently celebrated their 38th wedding anniversary. A daughter, Lori, age 23, lives in Colorado Springs. Barb's hobbies are reading, counted cross-stitching and bowling. We wish Barb all the best in her new role with Main Street Lincoln!
[By GEOFF LADD]