Local blood drive Monday

Send a link to a friend
[July 01, 2008] SPRINGFIELD -- Your help is vital to protecting your community's blood supplies for cancer patients, burn victims, accident patients and others facing surgeries. Chances are that you or someone special to you will need a blood transfusion during your lifetime.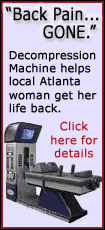 To help ensure an adequate blood supply for local hospitals, Abraham Lincoln Memorial Hospital Auxiliary is sponsoring a blood drive at the Lincoln Masonic Center, 2022 N. Kickapoo in Lincoln, on Monday from noon to 6 p.m.

For your convenience, call Tara toll-free to sign up at 1-866-448-3253, ext. 56, or schedule an appointment online at www.cicbc.org. Walk-ins are also welcome and truly appreciated.

The Central Illinois Community Blood Center is a not-for-profit organization that provides blood to 19 area hospitals. Blood collected at this drive is intended for local hospitals.

The blood supply is totally dependent upon volunteers who will take a few minutes to roll up their sleeve and donate blood. It takes only an hour to donate blood, but the benefits last a lifetime for someone.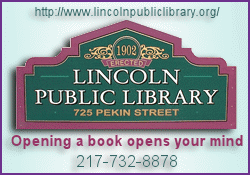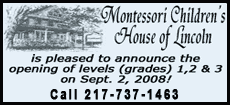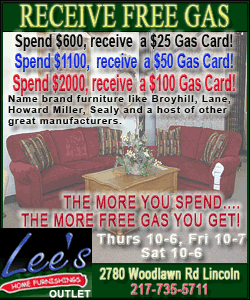 The 2008-2009 Springfield Clinic High School Blood Challenge started May 12. Donate blood at this drive and ask that your donation be credited to Lincoln Community High School or a participating high school in your community. The high school that wins the challenge will receive a $1,000 college scholarship from Springfield Clinic to award to a graduating senior who plans on furthering his or her education. Until Aug. 22, all donations will give double credit to their designated high school.
The CICBC donor room, located at 1134 S. Seventh St. in Springfield, is open to collect blood on Mondays and Tuesdays from 9 a.m. to 5 p.m., Wednesdays and Thursdays from 7 a.m. to 6 p.m., Fridays from 8 a.m. to 4 p.m. and Saturdays from 9 a.m. to noon.
For more information about blood drives, blood facts and blood types, visit www.cicbc.org. Please give what's in your heart and donate blood.
[Text from file received from Central Illinois Community Blood Center]