CONGRATULATIONS! "Together for Lincoln". This group of volunteers from churches throughout the community is our first Close Up cash winner. A check for $25.00 will be given to them to help support their noble endeavor. More information on this organization is available at www.togetherforlincoln.org.
---

Shop the Square this holiday weekend
July 3 - 5 Heritage Days. Once again, the city of Lincoln will be opening its doors to celebrate our Independence! Shops downtown will be holding sidewalk sales; there will also be dancing and music. July 3rd will feature a roasted chicken dinner at 5:00 p.m. in Latham Park, followed by a presentation by Abraham & Mary Todd Lincoln interpreters Max & Donna Daniels at 6:30. Culvers will be providing ice cream and Lincoln College will be bringing a Mary Todd cake to top off the festivities. The annual fireworks show will begin at dusk on July 4. For more information, please call 217-735-2815.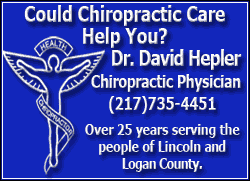 ---

We all love a parade
Lincoln Park District invites the community to join in the Heritage Days Celebration. One of the many activities will be the "Let Freedom Ring" old-fashioned children's walking parade. Join them in Scully Park of Friday, July 4th at 9:30 a.m. for registration. Decorate your tricycles, bicycles, strollers, scooters and wagons. Walking, rollerblading or skateboarding is another option. No motorized vehicles are permitted, (wheelchairs are accepted). Even your dog on a leash is welcome too. There will be contests for the best decorated entries. Categories will be available for ages 12 and under. The parade route will end at the Park District, at 1400 Primm Road. Plan to stay after the parade and join in the water fight as the community takes on Lincoln City Fire Department. We'll guarantee the fun and no one goes home dry!
---

You can never have enough stuff
The Lincoln Heritage Days Annual Community Garage Sale/ Flea Market will return to Scully Park on Friday, July 4th and Saturday, July 5th. This event continues to grow every year, and is a great mix of old and new, with books jewelry, music, household, kids stuff, collectibles, crafts and lots more. It is an excellent venue for home based businesses to promote their goods to the public. There are already many returning vendors to this year's sale, with new sellers always welcome. Food and restrooms will be available at the park. The sale will take place on Friday, July 4th from 12:00 p.m. – 8:00 p.m. and all day Saturday July 5th, beginning at 8:00 a.m. Vendor spaces are just $10 per day for each 10' x 15' space. Anyone interested in being part of sale can call Chuck or Judy Conzo at 732-4805.
---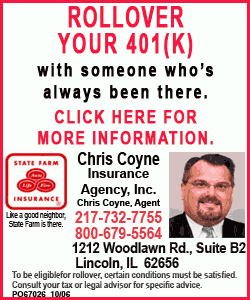 Mt. Pulaski having a busy Fourth of July as well.
The town of Mt. Pulaski will be having over 20 garage sales throughout the town. All shops and businesses will be open and many are offering specials.
The VFW is having a fried chicken dinner from 10:30am to 1:30pm at the Scroggins/Gee VFW on the south side of the square.
Fireworks at dusk will be at Frazier Park (S. Spring St.)-Sponsored by the Mt. Pulaski Phoenix Fire Dept.—
---

Just Cruisin on a summer afternoon
Jul 5 Heritage Days Cruise In. The Railsplitter Antique Auto Club will once again be setting up their cars on the downtown Lincoln square.
This special Heritage Days Event is fun for the whole family. Come and see all the classic cars! For more information & for registration, please call 217-732-3519.
---

If your life's a circus; why not go to one and have fun
Jul 8 Carson & Barnes Circus. Come out to the Logan County Fairgrounds, in Lincoln, IL, to enjoy the Carson & Barnes Circus sponsored by Zion Lutheran School, Lincoln. Over 40 acts from throughout the world will entertain audiences at the 4:30 and 7:30 p.m. performances. For ticket prices and information call Zion Lutheran School, 217-732-3977.
---

Got a good piece of news, information or something that we can all brag about? If you do, e-mail Mike and let us tell everyone about it. Plus you can win cash. Every submission, whether we use it or not, will get your name in the "Close Up" grab bag. At the end of the month we will draw a name and someone will get $25.00 just for dropping us an e-mail. If you wish, we will be happy to donate your winnings to the organization of your choice.
You can contact Mike at mikefak@lincolndailynews.com.
[By MIKE FAK]