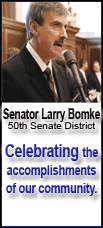 Speaking at a London news conference, he said there will be no quick fixes to calm soaring oil prices which hit a trading record, above $145 a barrel on Thursday.
"I think that the oil prices are a strong head wind and at this level, they have got a high risk that they are going to prolong the slowdown," Paulson said, winding up a European tour.
Paulson was holding talks on Thursday with British Treasury chief Alistair Darling and banking executives following meetings in Russia, Germany and others in Britain.
British Prime Minister Gordon Brown, who met Paulson on Wednesday, told a parliamentary committee that he agreed that oil prices are likely to continue rising.
"If demand exceeds supply and is likely to exceed supply for years to come, people will expect the price to rise," Brown told the House of Commons liaison committee.
Paulson and Darling told reporters that the United States and Britain urgently need to end their addiction to oil, reduce dependence on foreign energy imports and promote investment in renewable alternatives.
However, Paulson also conceded there is unlikely to be any short term impact to lower prices.
Saudi Arabia's oil minister, Ali Naimi, said Thursday that his country has no immediate plans to boost production, despite the new price record.