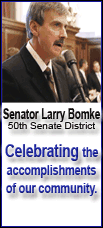 WSEC host, Mark McDonald and the popular Illinois Stories has been re-airing the trip to Middletown that he and his production company previously did. The show features the Knapp Becker Library and Museum and the Old Stage Coach Inn. It is a great informational piece about the history of Middletown. If you haven't seen it yet, you can catch it on Tuesday, July 8th at 6:30 p.m. on WSEC.
---

It's not too late to beat the heat and learn how to swim
Swim lessons are being offered by the Lincoln Park District Red Cross Certified Lifeguards. The next session begins Monday, July 7. You may choose 5:30 to 6:00 p.m. or 6:00 to 6:30 p.m. for lesson times. The next Saturday session begins July 12 with lessons starting at 9:00 a.m. for one hour. If you are interested in learning to swim or improving your water skills this is designed for you. Ages 3 to adult may register at the Park District. Call 732.8770 for additional information.
---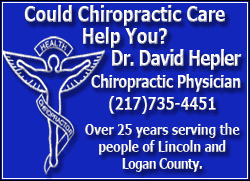 Fun and games with the family
The Lincoln Public Library District and Weyerhaeuser are sponsoring a games night with the family this Thursday, July 10th from 7:00-8:30 p.m. at the Lincoln Library Annex, 725 Pekin Street. Pre-registration is required by calling 732-5732. All children MUST be accompanied by adults.

---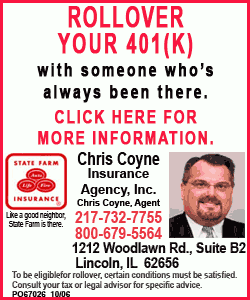 Is it time you started writing?
The Lincoln Writers Club will meet at 6:30 p.m. on Tuesday at the home of Marjorie Hamilton, 421 S. Monroe. Suggested topics to write about: an enjoyable time when you entertained someone in your home; if you were a host on a television show, what you would feature on that show; or what you liked to do with your grandparents. Meetings are open to anyone interested in writing. For further information call 7322723.
---

A landfill is a terrible thing to waste
Mark July 12th as a day you start to help recycle if you haven't already.
Glass will be collected in the Wal-Mart parking lot from 9:00 a.m. to noon. Food and beverage container glass in all colors will be accepted. NO ceramic, dishware, light bulbs, windows or mirrors. All glass must be thoroughly rinsed with metal or plastic rings removed. Labels may be left on. For more information, contact the Agency at 732-9636. Sponsored by the Lincoln Junior Woman's Club, the Logan County Joint Solid Waste Agency, Saint-Gobain, and Wal-Mart.
---
Got a good piece of news, information or something that we can all brag about? If you do, e-mail Mike and let us tell everyone about it. Plus you can win cash. Every submission, whether we use it or not, will get your name in the "Close Up" grab bag. At the end of the month we will draw a name and someone will get $25.00 just for dropping us an e-mail. If you wish, we will be happy to donate your winnings to the organization of your choice.
You can contact Mike at mikefak@lincolndailynews.com.
[By MIKE FAK]