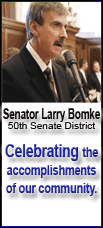 Geoff Ladd, Logan County Tourism Director has just been given the final 2007 tourism numbers as compiled by the state.

Travel/Tourism expenditures in the county were $29,450,000. up 5.4% from 2006.

Local Tax receipts - $400,000 - up 5.5% from FY2006

These numbers show a slightly better tourism increase than the state's average of a 5.2 % increase for the year. With more and more interest swelling throughout the country and in fact the world for Abe's 200 birthday celebration next year, it looks like Logan County tourism numbers could be strong for the next two fiscal years. Just so you know, a Google of Abe shows 12 million hits. That's a lot of interest in the man who walked these streets. Look for perhaps thousands of cash carrying visitors to soon be doing the same.
---
Another First Lady visits Abe's Museum
First Lady Eleanor Roosevelt, as portrayed by re-enactor Marilyn Darnall, will meet the public on Saturday, July 12 from 10:15 a.m. to noon at the Abraham Lincoln Presidential Museum. She will be available in the Museum's Illinois Gallery, which currently hosts the exhibit, "Packaging Presidents: Two Centuries of Campaigns and Candidates." Paid admission to the Museum is required to visit with Mrs. Roosevelt.
Darnall, from the Chicago area, has performed a one-woman show portraying Eleanor Roosevelt for several years. As Mrs. Roosevelt, she will talk about her experiences with campaigning, her feelings about women, and her involvement in politics and voting. She will be glad to sign autographs on July 12.
Mrs. Roosevelt will also be featured at the 2 p.m. Saturday Afternoon Tea that day at the Presidential Library sponsored by the Abraham Lincoln Presidential Library Foundation. There are no tickets remaining for the Tea.
Mrs. Roosevelt was once quoted as saying, "A woman is like a tea bag. You never know how strong she is until she gets in hot water."
---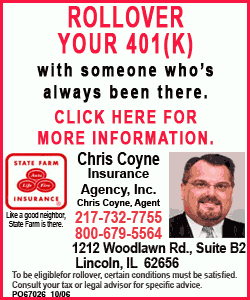 From Abe's own mouth: sort of
Abraham Lincoln's stories and his relationship with the town of Lincoln, Illinois will be the subject of a special program scheduled for Sunday, July 20 from 2 to 3:15 p.m. at Postville Courthouse State Historic Site in Lincoln. The event is free and open to the public. Renowned storyteller Brian "Fox" Ellis will tell stories of Abraham Lincoln and his relationship with Lincoln, Illinois. Ellis will present a mix of true stories as well as jokes and stories from Lincoln himself. Visitors are invited to bring lawn chairs for the outdoor program. Soda and water will be available for purchase.
Postville Courthouse State Historic Site, administered by the Illinois Historic Preservation Agency, is a reproduction of the first Logan County Courthouse which was in use from 1840 to 1847 and hosted Abraham Lincoln and others who traveled to hold court sessions in the Eighth Judicial Circuit. It is open from noon to 5 p.m. Tuesday through Saturday, and is located at 914 Fifth Street in Lincoln.
---
Just a trim around the hedges
The City of Mt. Pulaski wants residents to know they plan on going through the alleys and trim back trees and bushes that have grown into the alleyways.
If residents have spent a great deal of time pruning their bushes to look like a famous person or a favorite pet and don't want the barbers from the city to change that, they should do their own trimming before July 28th. If you have any questions you can call the Mt. Pulaski City Hall at 792-3222
---
Got a good piece of news, information or something that we can all brag about? If you do, e-mail Mike and let us tell everyone about it. Plus you can win cash. Every submission, whether we use it or not, will get your name in the "Close Up" grab bag. At the end of the month we will draw a name and someone will get $25.00 just for dropping us an e-mail. If you wish, we will be happy to donate your winnings to the organization of your choice.
You can contact Mike at mikefak@lincolndailynews.com.
[By MIKE FAK]