The Lincoln Art & Balloon Festival coming up the weekend of Aug. 22-24 is Hake's first priority, one that "throws me right into the fire," she adds. But, her enthusiasm for the project and experience with event planning are sure to make it an exciting one. There are returning favorites and new features we can look forward to at the 35th annual art fair and 20th annual balloon fest this year. The tethered balloon rides and helicopter rides will make a6 comeback, and there will be a new balloon -- a giant blue dinosaur-like creature named Azul.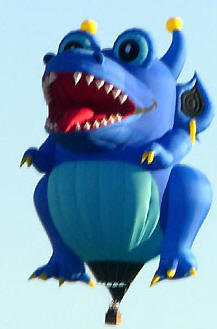 Azul
[photo courtesy of Lincoln/Logan County
Chamber of Commerce]
Hake tells us what else we have to look forward to: "At the airport this year we are adding commercial vendors. We are doing a 'test run' of a new feature -- the rental of a party space for a business or family. This will replace the corporate chalet from past festivals." The renters provide their own catering, tents, tables, music and entertainment. The chamber will promote this next year for corporate parties and family reunions. This gives the renters "special amenities like a skybox at an airport." Also new downtown will be a small children's carnival at Kickapoo Kingdom.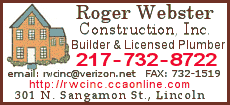 Other upcoming priorities this new director will help to tackle include a revamping of the chamber's online site to make it more of a community resource and tool, as well as more user-friendly and up-to-date. This process will include three phases. First, there will be a cosmetic makeover, or "facelift" for the site, then new content, such as a site search engine, so that visitors to the site can look up realtors, motels, restaurants and other chamber businesses. This phase will also include member pages -- a feature that will benefit members such as smaller businesses without their own online site, who could use their member page as their Web presence. The final step will be to develop a Web-based database on the site.
The other top priority at first is member recruitment and retention, to add to the member base, including a more diverse cross section of businesses. "With the economy being tight, I don't want businesses to see it as a hard decision to make (joining the chamber)," said Hake, who wants to add even more value to the already great benefits that members enjoy. Hake feels that new businesses should be able to get most of their needs met from the chamber, including training and advertising opportunities. In fact the chamber's marketing committee met last week and is in the process of implementing a plan that would bring a job fair to the community one year and a business expo the next, continuing to rotate the events every other year. Informative seminars will be a part of these programs.
Hake's previous job experience helped to make her new position a given. "I'm finally at a job where I can utilize all my skills," said Hake. The new chamber director worked 11 years for the YMCA in Kankakee and Clinton and in Champaign County and held several positions -- interim executive director, program director and membership services administrator. She also served as vice president of marketing and sales with Sports Publishing.
Her experience with the YMCA showed her the importance of the value in a membership -- to "involve and engage early." Hake feels that at the chamber, that premise is the same. She also did a lot of event planning and marketing at the YMCA and did a lot of work with volunteers and on committees. This prepared Hake for her work at the chamber, where volunteers are critical to the art and balloon fest.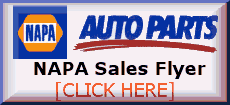 At the publishing job, she gained even more valuable marketing experience but on a commercial business level versus on a non-for-profit level working for the YMCA. "My authors were my clients, and I gave them and their books the best marketing campaigns possible," said Hake. She looks at chamber members in the same light -- "clients coming together for the greater good."
Hake is a self-professed "workaholic," but when not working, her son Cooper's sports activities, baseball and football, keep her quite active. She is also engaged to be married. Her fiance, Jeff, works at Illinois State University as a graphic designer. The couple just recently bought an older home in town and are remodeling. Andi is also an avid reader. She even lends her hand as volunteer for the Lincoln Heat baseball program, working with three teams -- age groups 9-10, 11-12 and 13-14.
We welcome Andi Hake to her new job and to our city and county!
[By GEOFF LADD]