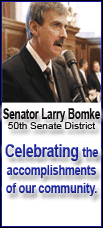 If the humidity is high and summer is in full swing, it's time for the First Presbyterian Church's Annual Pork Barbeque!

The 18th Annual Presbyterian Pork Barbeque will run from 5:00 to 7:30 p.m. on Wednesday, July 16 at the First Presbyterian Church at 301 Pekin Street.

For only seven dollars, diners will feast on pork barbeque sandwiches, coleslaw or applesauce, chips, drinks, and homemade desserts.

Cathy Tiffany, Annual Pork Barbeque chairperson, notes that all the proceeds from the event go to support local charities such as Habitat for Humanity, summer camping for youth, Central Illinois Economic Development Corporation, after school tutoring, HOPE dental care for needy children, the Logan County Food Pantry, Lincoln Pastoral Counseling Services, and the OASIS Center.

Tickets are available at the door. Take-out is also available.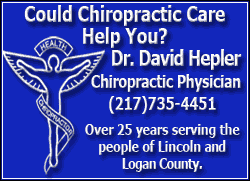 ---

You can be late and still be on time.
Remember the Farmer's Market switches to evening hours: Wednesdays from 5:00 p.m. to 8:00 p.m. Saturday hours remain the same 7:00 a.m. to 12:00 p.m. Stop by after work and take home some fresh veggies, fruits and breads.
---

Young volunteers help a sister church
The youth of St. John United Church of Christ in Lincoln, recently took their annual Mission trip to St. John U.C.C. an inner-city church in Chicago. Pastor Charlotte Nold, pastor of the church, orchestrated the 'to do jobs', cleaning and organizing work inside as well as yard and garden work outside. The group also learned about St. John's, its people, its missions and ministry in the area in which they are located. Matthew Goetsch, Alison and Andrew Pagel, Lindsay Sanders, Orry, Verdeen and Larry Ingram and sponsors, Jonathan and Tami Pagel and Tonita Reifsteck cleaned, weeded and planted over 70 perennials, and painted during the stay. Pastor Nold took the group on an "L" ride to downtown Chicago and a tour of the Sears Tower. Matthew, Allison, Lindsay and Andrew participated in the Sunday morning worship service before the group left for return trip home.
---

You're never too old for genealogy
Logan County Genealogical and Historical Society will meet July 21, 2008 at 114 N. Chicago St. in Lincoln, Illinois at 6:30 p.m. Rochelle Joseph will speak about her experience as an Intern at Illinois Regional Archives Depository System. She will briefly speak about the history of the Beaver family. Visitors are welcome. The group invites anyone to submit their family history which will be placed in the family history section of our library. Society hours are 11 a.m. - 4 p.m. on Tuesday through Friday & Saturday 10:00 a.m. - 1:00 p.m.
LCGHS is proud to announce that Lauren Stanfield's Old Union Cemetery exhibit will be featured in our show window starting July 16, 2008 through October of 2008. She received special recognition at the Illinois History Expo in May. LCGHS will also feature outstanding citizens of Logan County who had a significant influence on the early growth of our community. Those citizens will be represented at the Old Union Cemetery Walk on September 13, 2008.
---

Bugs, Bats & Butterflies.
The Lincoln Park District is offering this adventure packed day, filled with birding, looking for bugs and butterflies, using sweep nets to examine the smallest of insects, hiking and tree identification. Anything else that Mother Nature chooses to reveal to us will be discussed as well. Carol Thompson, an Outdoor Specialist from Weldon Springs State Park, is coming to help us discover what Memorial Park has to offer.
A pioneer's meal will be offered at noon for all the participants. Insect repellant and long pants with comfortable tennis style shoes are suggested. Parents/Guardians are responsible for transportation to and from Bugs, Bats & Butterflies. Join in the fun Wednesday, July 16. Young people entering 1st – 3rd grades will attend from 9:00 – 1:00 p.m. and those entering 4th – 6th grades will stay until 3:00 p.m. Cost is $8.00 and includes lunch. For more information call 732-8770.
---

If you are an expert on hot air, you are needed.
There are still volunteer opportunities available for this years Art and balloon Fest: Clerical pre-festival work in the office, Parking, Admissions, Beverage Center, Beer & Wine Garden (must be 21 or older), pre-festival set up, Cleanup crew all have openings.
There are still a few sponsorships available if you want a high profile for your business. They include:
Sound System Sponsor ($500 or $1000) - Recognition near sound stage.
Pilot Friday Night Feed Sponsor ($500) - Recognition near the hot coffee and rolls in the pilot briefing area
Pilot Sponsor Breakfast Sponsor ($500 or $1000) - Recognition at the Holiday Inn, pilot briefing room, and Lincoln Community High School.
Plus two balloons still need sponsors. Remember, sponsoring a balloon allows you to have balloon rides for the weekend, wrist bands to enter the airport activities, and to get the experience from the festival that a general participant won't get.
For more info contact the chamber office at 217-735-2385.
---
Got a good piece of news, information or something that we can all brag about? If you do, e-mail Mike and let us tell everyone about it. Plus you can win cash. Every submission, whether we use it or not, will get your name in the "Close Up" grab bag. At the end of the month we will draw a name and someone will get $25.00 just for dropping us an e-mail. If you wish, we will be happy to donate your winnings to the organization of your choice.
You can contact Mike at mikefak@lincolndailynews.com.
[By MIKE FAK]