<![if !vml]>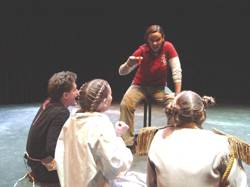 <![endif]>
Theater director, visiting professor at SIU has roots in Lincoln community

Send a link to a friend
[July 19, 2008] Lincoln native Jennifer Holcombe has a flair for the theatrical. Well, actually her flair is for directing theater, and her career has been nothing but busy. [Caption: Jennifer Holcombe uses a puppet to get a point across to her cast.]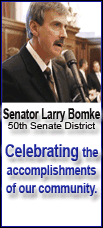 Holcombe, who might better be remembered by Lincolnites as Jennifer MacMurdo, is married to Bob Holcombe. The two currently reside in Carbondale. Jennifer recently was given a visiting assistant professorship at Southern Illinois University.

Holcombe, who has a master's degree in fine art, will teach classes in theater, and that is where her passion lies.

She also is busy directing "Little Women, the Musical" for the McLeod Summer Playhouse at the university. Remarkably, for someone only 29 years old, this will be the 28th play that she has directed.

She has three Lincoln Community Theatre works on her resume, having directed "The King and I," "1776," and "South Pacific" earlier this decade. It was these earlier opportunities that she used to continue to grow as a theatrical director.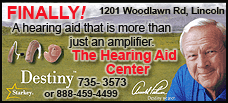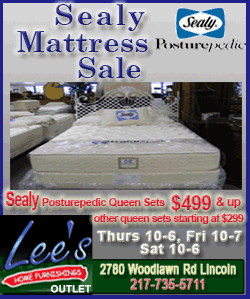 Holcombe has already directed two productions in Boston, and she doesn't rule out the possibility of continuing to become more active in the larger city markets as her career progresses.
When asked what is the most rewarding aspect of directing a play, Holcombe stated it is seeing everything come together as the production nears performance night.
The most frustrating part of being a director, she explained, is when actors don't have their lines memorized when they should.
Holcombe's favorite plays are "4.48 Psychosis," a one-woman play written by the late British playwright Sarah Kane, and "Little Red Hen," which she directed in Boston.
Jennifer is the daughter of Louella Moreland, youth services librarian at the Lincoln Public Library.
[By MIKE FAK]