Abraham Lincoln Memorial Hospital celebrates Steve Tanner as its July Employee of the Month.

Tanner came to ALMH in October of 2006 as an electrician for the Plant Operations department. He received his associate's degree from DeVry University in Computer and Electronics Technology, and has five years of prior experience as an electrician. Tanner's position allows him to do a wide variety of tasks in a day including maintaining generators, replacing electrical motors, updating electrical systems in rooms, pulling wire for building-wide information technology, and maintaining other electrical systems.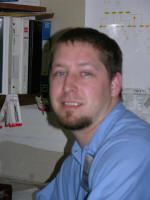 "Steve is a very nice person who is willing to go above and beyond to help," say his co-workers. "He is knowledgeable and good at what he does. He is really an asset to his department."

ALMH employs more than 290 in a wide variety of job functions. A different employee is honored each month for their commitment to creating GREAT patient experiences, getting GREAT results, and making ALMH a GREAT place to work.

[picture courtesy of ALMH]
---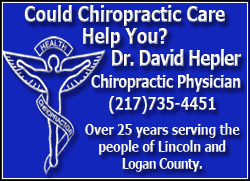 ---

Kroger Milestones
Kroger's has a pair of employees celebrating anniversary dates on the job this July. Chris Chon and Steve Littrell both have been with the food retailer for 11 years. Littrell started at the store July 8th, 1997 with Chon's first day on the job July 30th, 2007.
---

VFW dancing again
VFW Post 1957 dance club is having a dance July 27th at the hall.
Located at 915 5th Street, the dance will be Sunday from 6:30 to 9:30 and features the band, The New Del Mars. Anyone who cares to dance is welcomed to attend.
---

It's just around the corner
Registrations are now being accepted for the 2008-2009 school year at St. Peter Lutheran Church Preschool in Emden. The four/five year old class will meet on Tuesday, Wednesday and Thursday afternoon from 12-3 and is open to any child who will be four before September 1, 2008. The three year old class will meet on Tuesday and Wednesday mornings from 8:30-11 and is open to any child who will be three before September 1, 2008.
The purpose and goal of the preschool is to help provide an academic foundation with a love for learning in a Christian educational setting. St. Peter Lutheran Church Preschool admits students of any, race, color, national or ethnic origin.
Please contact Nicole Briggs at 217-376-3481 with any questions or for registration information.
---

Christian Child Care Day of Fun!
On Saturday, July 26th from 8:00-1:00 Christian Child Care, at 721 Wyatt Ave will be holding a Garage/Bake Sale and Kids Carnival. The Carnival is a throwback to the penny carnivals of years ago. There will be ring toss games, bowling, face painting and so much more. The cost of each game is 10 cents a ticket. If a child brings a can of food to donate they will receive five free tickets. Director Coleen Moore reminisces about her childhood memories of backyard carnivals. "Back in 1975 my neighborhood had a backyard carnival for MS and earned over $80.00. In that day and age this was an amazing about of money. Christian Child Care hopes to bring back that fun for a great cause... The Child Care Center."
For the adults that day we are holding a traditional garage/bake sale. And for the hungry, we will be selling hot dogs and lemonade for a light lunch. Christian Child Care hopes this Family Fun Day Event will become an annual fundraising tradition in July.
Christian Child Care is a not for profit center that serves children from 0 to 13 years old. They currently are serving 72 children and still have 41 openings for all age levels. Be sure to register early before public school starts in August so you do not end up on a waiting list. If you would like to make donations for the garage/bake sale, volunteer or need information on any of the upcoming events contact the center at 732-5750.
---
Got a good piece of news, information or something that we can all brag about? If you do, e-mail Mike and let us tell everyone about it. Plus you can win cash. Every submission, whether we use it or not, will get your name in the "Close Up" grab bag. At the end of the month we will draw a name and someone will get $25.00 just for dropping us an e-mail. If you wish, we will be happy to donate your winnings to the organization of your choice.
You can contact Mike at mikefak@lincolndailynews.com.
[By MIKE FAK]