A dark night darkened further by storm

Send a link to a friend
[July 22, 2008] While moviegoers were in the local theater watching the new blockbuster movie, "The Dark Knight," everyone else at home, work or on the streets went through their own dark night as still another torrential storm went through the area Monday evening.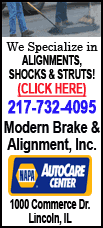 The storm, precipitated by the movement of a cold front through the region, dumped as much as 3 inches of rain in less than two hours. Coupled with wind gusts in excess of 60 mph, the storm was just the latest sequel in a year of record rainfall and storms. Many residents stated that at times the rain seemed to be driven sideways as it was pushed into homes, trees and outbuildings almost horizontally.

Linda Engebretson, a meteorologist with the National Weather Service, told the Quad City Times that the storm phenomenon is called a "derecho," which is a Spanish word meaning "straight ahead." The meteorologist said that this type of storm with fast, straight-line winds can cause almost as much damage as a tornado.
The monstrous storm affected an area as far north as LaSalle to as far south as Sangamon County, knocking out power throughout the service area.
Ameren utility officials said that more than 18,000 customers were without electrical service at the height of the storm. As of Tuesday morning, the utility reported that the number of customers still waiting for service to be restored was down to 7,600. The high winds, which knocked down trees onto power lines, also felled power poles in some instances.
Locally, the Logan County Emergency Management Agency alerted Lincoln residents to the force of the storm, setting off the warning sirens at 8:33 p.m. The sirens stayed on for 12 minutes, until the brunt of the heavy wind passed through the area.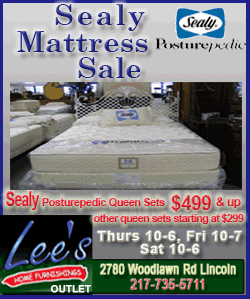 EMA officials state that as of this morning no reports of serious bodily injury or major structural damage have been received.
Mount Pulaski, which was hit by the brunt of the storm, still has sections without power, and extensive damage to trees and properties has been reported.
Dan Fulscher, EMA director, left for Mount Pulaski this morning to do an emergency damage assessment, and it is expected that an official with the Illinois EMA will also travel to the town to determine the extent of damage.
[By MIKE FAK]