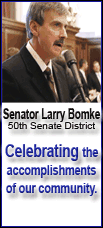 A world class racer.
Lincoln has a remote control racer going to the World Races in September. Michael Paige, the son of Darrell and Lorrie Paige, made it through the qualifying races in St. Louis and will now prepare for the big race in North Carolina this September. Now this is serious racing folks with the remote cars reaching speeds of up to 60 miles per hour on the straightaway. Michael is one of only 33 U.S. racers invited to the world event and only one other Illinoisan will be told to start their engines in Charlotte. Before the big event, Michael will have a chance to keep his skills honed at the Manufacturer's Race in Idaho.
---

Register now save money
The early registration dates for the YMCA Before and After School program begins July 30th and continues through August 12th at a discounted registration rate. Registration rates increase after August 12th. Tuition rates and program fees are now available. Call or visit the YMCA to receive your informational pamphlet on this program.
---

Square or round they dance and dance
If you see a whole bunch of folks walking around in country garb this weekend, don't think you have slipped into another era or another part of the country.
This weekend the Lincoln Christian College is hosting the Illinois Square and Round Dance Convention. This event will bring 600 dancers into our community for the weekend and once again we can show these visitors that there are plenty of reasons to come to the great city of Lincoln, Illinois.
---

Working at the dog wash blues.
The Humane Society of Logan County is having another pooch bath fundraiser this Saturday. The dog wash will be at the Eagles Lodge at 1621 N. Kickapoo from 10:00 a.m. till 2:00 p.m.
---

Yes they have no bananas
But the Habitat for Humanity does have sweet corn, cucumbers, zucchini and the tomatoes are coming next week. The veggie stand set up on the Logan Street side of the CCA and Lincoln Daily News parking lot at Keokuk and Logan is getting busier every day as the word gets out.
The crops are grown by Habitat volunteers and they are sold by Habitat volunteers with all the money going to the worthy cause. Now all they need is for you to stop by, pick out some locally grown veggies and help a locally grown great cause. The stand is open from 10:00 a.m. till 5:00 p.m. Monday through Saturday.
---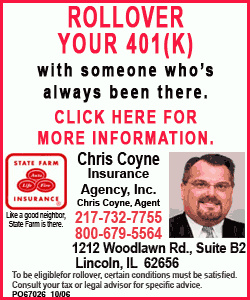 Bees Knees and Rasamatazz
Directed by Tim Searby, Lincoln Community Theatre's closing production of "Cheaper by the Dozen" reflects all the ups-and-downs of the mid 1920s. This fast-paced musical adaptation dazzles with jazz, tickles the funny bone with family antics and displays the social etiquette of the times…Dad rules the roost – mother quietly guides – and teenagers rebel. Sound familiar????
An energetic cast of over 22 performers feature such seasoned actors as Rob Siebert, Joy Strauss Anderson, Tony Curcuru and Annie Sheley. From a busy six year old to mature adults, each display their versatile talents rarely seen on stage. You'll laugh, tap your feet and even shed a few tears.
"Cheaper by the Dozen" opens July 25 with continuing performances on July 26, 27, 31 and August 1, 2, 3. Curtain times are 7:30 p.m. for evenings and 2:00 p.m. for Sunday matinees. Tickets are $10.00 adult and $7.00 students through 8th grade only. Reservations may be made by calling the box office at 217-735-2614.
---

Can it be possible?
In what is undoubtedly the fastest moving summer in history, we need to remind everyone that the Logan County Fair cranks up Tuesday. The forecast looks good with the hot humid weather we just suffered through moving out east where it belongs. The LDN will have complete results coverage for you every day plus special human interest stories that you won't find anywhere else.
---
Got a good piece of news, information or something that we can all brag about? If you do, e-mail Mike and let us tell everyone about it. Plus you can win cash. Every submission, whether we use it or not, will get your name in the "Close Up" grab bag. At the end of the month we will draw a name and someone will get $25.00 just for dropping us an e-mail. If you wish, we will be happy to donate your winnings to the organization of your choice.
You can contact Mike at mikefak@lincolndailynews.com.
[By MIKE FAK]