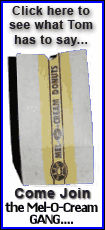 The Schaumburg-based company said Thursday that it earned $4 million, or less than 1 cent per share, in the three months ended June 30. That includes charges of 2 cents per share.
Analysts polled by Thomson Financial had been expecting a loss of 3 cents per share.
In the same quarter a year ago, Motorola lost $28 million, or 2 cents per share.
Its sales fell 7.4 percent to $8.1 billion versus $8.7 billion a year ago. Analysts had been expecting sales of $7.69 billion.
Motorola shares were up 83 cents, or 11 percent, at $8.50 in pre-market trading.
The company shipped 28.1 million cell phones, up from 27 million in the first quarter, and said it maintained its share of the global handset market.
According to research firm IDC, Motorola's market share actually slipped slightly from 9.4 percent of the global market in the first quarter to 9.2 percent in the second, but the company narrowly maintained its third-place ranking, just above South Korea's LG Electronics Inc.. with 9.1 percent. Nokia Corp. is the largest maker of cell phones, followed by Samsung Electronics Co.
Motorola rode high a few years ago on sales of its Razr phone, but has failed to come up with follow-up of equal popularity. Facing increasing investor discontent, Motorola said in March that it plans to spin the handset business off into a separate publicly traded company. The split should be complete next year.
The cell-phone unit, Motorola's largest by sales, posted an operating loss of $346 million, but the other two units, which together make up more than half the revenue, made up for that loss.