Immediate storm threat passes for now
(11 a.m. announcement)

Send a link to a friend
[June 03, 2008] The National Weather Service is reporting that a heavy band of thunderstorms with possible damaging hail traveled through an area south of Jacksonville to north of Peoria starting at 10:31 a.m.
The storm, carrying winds of upwards of 60 miles per hour, is an isolated band with further possible heavy rains later on this afternoon.

Travelers are advised to use caution when traveling, especially on overpasses and outlying areas, as flood conditions are possible.

Reports of flooding and damage from falling trees are widespread.

Law enforcement officers have reported power lines down on the Illiopolis blacktop.

[LDN]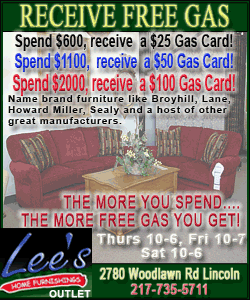 [

June 03, 2008

]

The warm front that stalled out across Illinois early Tuesday morning will become a cold front as it drops southeast across the area Tuesday afternoon. Strong to severe storms are expected to develop by late afternoon along and south of the front, when the cap on the atmosphere finally breaks. Storms will quickly become severe once they erupt. Large hail and damaging winds will be the most likely hazards. Remain alert for later updates to this potential severe weather event.

[Text from announcement received from Terry Storer, Logan County Emergency Management Agency]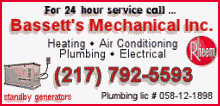 'A few hours of dry weather expected today'
(7:06 a.m. Tuesday announcement)

Send a link to a friend
[June 03, 2008] An urban and small stream flood advisory was in effect until 9:15 a.m. Tuesday for Logan, eastern Mason and northern Menard counties.
At 7:05 a.m. National Weather Service Doppler radar indicated 2-3.5 inches of rain had fallen across the area, primarily from Petersburg and Mount Pulaski southward. Areas to the north received 1 to 2.5 inches of rain.

Rain diminished across the area through 8 a.m. and a few hours of dry weather is expected afterward. However, it will take a little more time for the high water levels on creeks and streams to subside, as well as any ponding of water on low-lying roads.

Locations affected include Lincoln, Mason City, Beason, Chestnut, Cornland, Elkhart, Greenview, Latham, Middletown and Mount Pulaski.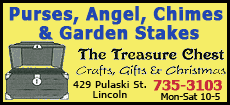 Excessive runoff from this storm will cause flooding of small creeks and streams, highways and underpasses. Additionally, country roads and farmlands along the banks of creeks, streams and other low-lying areas are subject to flooding.

Report any flooding to your local emergency manager or the nearest law enforcement agency for relay to the National Weather Service.

[Text from announcement received from the Emergency Email Network]