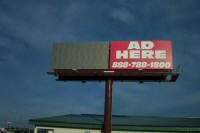 City to take more control of billboards and signs
Send a link to a friend
[June 11, 2008] A large billboard on Woodlawn Road has been getting some attention, and not all good. The sign, located in the west-side business district, does not even have a particular advertiser yet, but advertises itself as a location to place a message. Located on the north side of the road, it is 400 square feet on each side, facing east and west.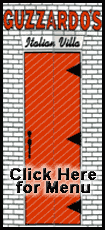 This sign, others that are large, as well as the increasing number of signs have been getting noticed as undesirable recently.

The city of Lincoln ordinance committee met on Monday evening to discuss signs and billboards that already are or will be located inside Lincoln city limits.

During the meeting the committee identified that the ordinance addresses the limitations in different types of zoning: industrial, commercial and residential districts.

Alderman Buzz Busby said, "I am opposed to any more billboards here in town, whether its in an I, a C or a R district."

Alderwoman Wanda Lee Rohlfs asked city zoning officer Les Last about the current ordinance that is in place and his opinion of what might be done.

One thing to do is to define what constitutes the size of a billboard. Last said that a 10-foot by 20-foot isn't too big for a billboard. He suggested that it could be 300 square feet, and agreed with Rohlfs that 250 square feet would be acceptable.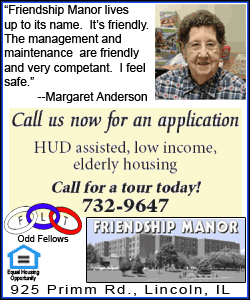 Another consideration is to set how far apart they need to be spaced, such as 1,200 feet or 1,000 feet apart, Last said.
Alderwoman Jonie Tibbs said that one sign painter told her that 2-inch lettering could be seen 10 feet away. Rohlfs observed that if you're driving a car and trying to read as you pass, "it's already over." Alderwoman Melody Anderson observed that if it's up in the air, it's already 10 feet away.
Last said that the same company that put up the big one has another permit request pending for a billboard to be located at Crossroads Motel. He said he informed them that there was a moratorium being placed on any further signs and billboards while the council is discussing the matter. A formally stated moratorium is on next week's agenda.
It would likely be four to five weeks before the sign and the billboard ordinances could be rewritten.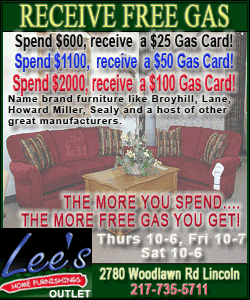 Alderman Jeff Hoinaki thought that this might be a problem for at least one local business. Medicap Pharmacy recently became Stacey Family Pharmacy.
Council members agreed to just put a temporary stop on the billboards, so as not to harm local business.
The discussion turned to signs. Rohlfs said that there is some concern that there are becoming too many signs in Lincoln. She asked Last about the meaning of one sign per zoning lot.
Last said that business are allowed to put signs on their buildings, but that only one sign out on the property is allowed. Most businesses are within reason, he said. "They don't want to be gaudy. They want it to look nice."
Last agreed with Rohlfs that there need to be limits on the number of signs on a lot. She also suggested that a maintenance review be added and all signs be reviewed every five years.
Alderman Benny Huskins suggested to consider sign heights also.
Last said that at present signs need to be 7 to 8 feet to the bottom.
Last suggested that the sign and the billboard ordinances be kept separate.
[By JAN YOUNGQUIST]