"Together for Lincoln", is a partnership consisting of more then 15 churches that are committed to sharing their love of Jesus Christ by serving the community. The first major kickoff of this multi-denominational group will be the late September date when dozens of small groups from churches all over the community will descend on homes to help with various projects from just a visit to actually repairing or building something for the homeowner.

The jobs will be varied indeed. Help could be as simple as helping someone with housework or grocery shopping all the way to interior or exterior painting, home repairs, electrical or plumbing repairs or perhaps building something such as a handicapped accessible ramp.
The group is in its infancy and that is why several of them got together to share experience. The idea is to have a better, more experienced volunteer pool for when the big day comes around in September.
Norm Newhouse, a member of the organization and of the Methodist Church said that the six person crew at the first project represented four different churches, the Methodist Church, Lincoln Christian Church, Jefferson Street Christian Church and the Trinity Episcopal Church. Norm mentioned names are put into a hat so that volunteers get to meet and work with other volunteers from other churches.
Information on how you can become a volunteer or apply to have something done for you or your home is available at their website www.togetherforlincoln.com Applications are also available at State Bank of Lincoln, Wal-Mart and Action Rentals.
---
Things are always happening on the square
If you have been to the southwest corner of the Logan County Courthouse grounds lately you can relax. The sod all torn up and missing isn't from moles or gophers. It's from workmen preparing the ground for a new cement plaza that will be located on the square at the corner of Pulaski and Kickapoo.
The plaza will have at its center a new kiosk that will be on duty 24 hours a day, seven days a week for visitors to find out information about our community.
The four sided information station will be 70 inches tall and 30 inches from side to side in the form of a square. The attractive tourist information center will have pictures from two Ostendorf paintings of Lincoln as a lawyer and a judge. Another side will have a quarterly calendar of events occurring in the Lincoln/Logan County area.
Included on the kiosk will be a map of Logan County showing where all our historic and interpretive sites are located.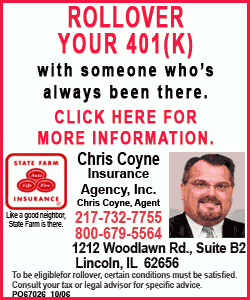 The kiosk is being built with a grant from the Abraham Lincoln Bicentennial Commission with several businesses and individuals in the community participating in the matching funds program. When it is all done and ready for the Fourth of July celebration on the square, we will let you know everyone who was involved in this project.
Speaking of the Fourth of July, the square will be adorned in red, white, and blue. Many merchants have ordered flags and bunting to adorn their shops for the holiday.

The person wishes to remain anonymous so that's what we will do. This person approached a member of the Logan County Food Pantry and handed over two $50. bills to help buy food. The person said he received his "economic stimulus check" and wanted to give some of it to a worthwhile cause. We can always learn something from our neighbors, even when we don't know their names.
---
You need to mark this date on your calendar. The Elkhart Hill Tour is June 21st. If you're interested in nature and in history, this tour is the one for you. The Elkhart Historical Society will be hosting a guided tour of Historic Elkhart Hill. Space is limited for this event, so please call 217-947-2238 for reservations.
---
Got a good piece of news, information or something that we can all brag about? If you do e-mail Mike and let us tell everyone about it. Plus you can win cash. Every submission, whether we use it or not, will get your name in the "Close Up" grab bag. At the end of the month we will draw a name and someone will get $25.00 just for dropping us an e-mail. If you wish, we will be happy to donate your winnings to the organization of your choice.
You can contact Mike at mikefak@lincolndailynews.com
[By MIKE FAK]