If you don't know the way to San Jose you might want to find out how to get there before next weekend, June 27th- 29th.
The village of 600 plus residents is celebrating their 150th anniversary as a community and they are throwing one heck of a party.

The weekend-long activities will kick off in the village's newly redone Memorial Park at 4:00 p.m. Friday and events will continue to happen all the way through Sunday afternoon's grand parade.

There will be a fish fry dinner on Friday night, plus a huge fireworks display that evening at the township building.

There will be a tractor pull on Saturday as well as live music but there is a whole lot more to the weekend.

There will be a truck pull contest with the fire fighters, an antique tractor show, tractor games, wheat threshing, corn shelling, a water fight with the fire fighters, kiddy games for the children, a 3 on 3 basketball tournament, and softball games.

Craft vendors will be on hand to sell their wares and food vendors will be available for you to enjoy pork chops, brats, hot dogs and beverages. Sunday, June 29th, there will be a nondenominational church service in Memorial Park with music. For more information you can call 309-247-3332 between 7:30 a.m. and 11:30 a.m. Monday through Friday. The villagers of San Jose invite you to join in their celebration of this historic achievement.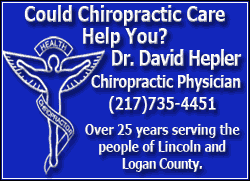 ---
June 27-29, Lincoln Community Theatre presents: "Mrs. President" Held at the Johnston Center for the Performing Arts on the beautiful Lincoln College campus.
Based on historical documents and enhanced with personal family remembrances this original play authored by a life long Lincoln scholar, M. David Samples, will broaden your insights into the true character of Mary Todd- "Mrs. President". Beginning with her socialite life in Springfield Illinois as the sister of Elizabeth Edwards and her on-again, off-again relationship with her husband, Abraham Lincoln, the play pulls you along the trials of being the wife of one of our nation's greatest and most complex presidents. Humorous, laughable, sad, reflective and compelling this is the emotional journey of a woman misunderstood and maligned by a callous public at that time in our history. To make opening night even more exciting, New York playwright, M. David Samples will be in attendance. An after-performance audience reception to meet Mr. Samples, director, cast and crew will also highlight the evening. Curtain time is 7:30 p.m. For tickets and more information, please call 217-735-2614 or e-mail
president@lincolncommunitytheatre.org.
---

If you love old cars this is for you.
Main Street Lincoln and the Railsplitter's Antique Car Club will be holding Lincoln's Trail to St. Jude on June 28, 2008. This event will feature fun activities for the whole family in Downtown Lincoln from 3 p.m. to 9 p.m. Come and enjoy the Super Cruise for St. Jude starting at 3 p.m. and ending at 9 p.m. (entrant's fee donation of $5 per vehicle), there will also be live entertainment by the Country Thunder Band beginning at 6 p.m.. O'Donohue's Hot Dogs & Soda Fountain will be hosting a bake sale and a silent auction from 3 p.m. to 6 p.m. Finally, there will be a 50/50 drawing and a raffle to benefit St. Jude held in front of Action Rentals.

St. Jude Children's Research Hospital is unlike any other treatment and research facility anywhere. The breakthroughs and discoveries made here have changed the way the world treats children with cancer and other illnesses. St. Jude accepts all patients, regardless of the ability to pay for treatment, making it America's third largest health-care charity. All proceeds of Lincoln's Trail to St. Jude will go directly to the Peoria, IL, branch of this Research Hospital to benefit the numerous children who are treated there.

For more information concerning Lincoln's Trail to St. Jude please contact Dave Dunham at 217-737-5378 or visit www.geocities.com/railauto/index.html.
---

The fee is free.
Expectant moms should mark this day on their calendar. The Abraham Lincoln Memorial Hospital is offering a free clinic Sunday, June 29th in Conference Room A. Topics to be covered are: breathing and relaxation techniques, warning signs during pregnancy, pain relief in labor, assisted deliveries and caesarian birth, newborn care and safety, infant feeding, contraception, and mother care. When you are finished absorbing all this valuable information you will be given a tour of the ALMH Family Suites.
The normal $30 fee has been waived, and you can't beat that price! Call 732- 2161 ext 75235 for further details.
---

An Impressive job resume
Janice Greer is celebrating 34 years on the job with Kroger this month. Janice started at the food retailer at the ripe old age of 16 and she has been a fixture with the company ever since. Talking to staff and employees at the store, they too are celebrating Janice's longevity with Kroger. Greer is the store's file clerk and takes care of the mountain of paperwork and electronic filing that a busy store has to contend with.
Congratulations to Janice on a marvelous milestone.
---

Strike up the band and have a great sandwich
The Lincoln Community High School Band Boosters will be selling Rib eye and Pork Chop Sandwiches at Lincoln IGA on Saturday, June 28th from 10:00 a.m. until 2:00 p.m. Help support the Boosters in their efforts. Proceeds go to direct support of the band including equipment, uniforms, props, and travel expenses.
---
Got a good piece of news, information or something that we can all brag about? If you do, e-mail Mike and let us tell everyone about it. Plus you can win cash. Every submission, whether we use it or not, will get your name in the "Close Up" grab bag. At the end of the month we will draw a name and someone will get $25.00 just for dropping us an e-mail. If you wish, we will be happy to donate your winnings to the organization of your choice.
You can contact Mike at mikefak@lincolndailynews.com.
[By MIKE FAK]