"Tuberculosis is not a disease many of us think about anymore, thanks to the wonderful advances in medicine and the hard work of public health staff. But TB is still impacting hundreds of people annually in Illinois and millions of people worldwide. I urge all citizens to increase their awareness and understanding of tuberculosis and to join the global effort to stop the spread of this disease," said Blagojevich.
Tuberculosis is a contagious and potentially life-threatening disease that is transmitted from person to person by tiny airborne particles of bacteria. While it can affect any part of the body, such as the brain, kidneys or spine, tuberculosis usually affects the lungs. General symptoms include fatigue, weight loss, fever and night sweats. When tuberculosis attacks the lungs, symptoms can include a persistent cough that sometimes produces blood and chest pains.
In 2007, 521 cases of active tuberculosis were reported in Illinois, a decrease from 569 cases reported in 2006. However, reports show Illinois still ranks fifth for the highest number of tuberculosis cases in the nation.
Multidrug-resistant tuberculosis is at its highest rate ever according to the "Anti-tuberculosis Drug Resistance in the World" report released at the end of February -- and Illinois is following the national trend. The number of drug-resistant TB cases in Illinois increased by 25 percent (from 28 cases to 35) from 2006 to 2007.
"Tuberculosis cases resistant to drugs are something we need to take very seriously. Last June a Georgia man infected with extremely drug-resistant TB flew to various countries, risking the health of those passengers traveling with him on those flights," said Dr. Damon T. Arnold, Illinois Department of Public Health director. "We all need to be aware of the risks of tuberculosis, especially since drug-resistant cases of TB have been increasing, and take precautions against being infected or infecting others with this disease."
Illinois is again following the national trend in that the majority of TB cases are among individuals who were born in foreign countries where TB is common, such as Mexico, India and the Philippines. In 2007, 59 percent of tuberculosis cases in Illinois were foreign-born, up from 54 percent the previous year.
Tuberculosis is usually curable, but a person with the disease must faithfully adhere to prescribed drug therapy for six months or longer. Many patients comply with the strict drug regimen at first, but some stop taking their anti-TB medication after they start to feel better. Failure to follow the therapy for the full length of time prescribed may allow the tuberculosis to return. In some cases, the re-established infection cannot be treated with the usual antibiotics.
The Illinois Department of Public Health focuses on finding tuberculosis cases and making sure they are treated promptly and completely. The department also looks for those who have had close contact and been exposed to someone with tuberculosis, so that they can be treated if they are infected, although not necessarily sick. These goals are achieved through four programs:
Data -- Surveillance and collection of data to watch for trends and see which areas need more resources.

Nurses -- The Illinois Department of Public Health has nurses who act as consultants for local tuberculosis programs across the state and help secure resources for treatment.

Funding -- The Department of Public Health awards approximately $100,000 a year in federal funds to counties with high incidence of tuberculosis to assist with treatment, such as paying nurses to deliver medication to patients to make sure the full course is taken.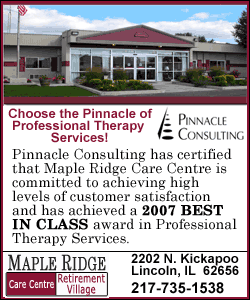 The governor's proclamation reads as follows:
WHEREAS, 521 cases of active tuberculosis disease were reported in Illinois in 2007, and an estimated 650,000 Illinoisans are infected with the bacterium that causes tuberculosis; and
WHEREAS, Illinois reports the fifth highest number of tuberculosis cases of any state in the nation; and
WHEREAS, there is a disproportionate burden of TB in minorities and persons born outside the United States; and
WHEREAS, each year thousands of household members, health care employees and others who share the air of infectious tuberculosis patients are at risk of becoming infected with the tuberculosis bacterium and progressing to active disease; and
WHEREAS, in 2007 there was an 8.4 percent decrease in the number of patients in Illinois with active tuberculosis, but a 25 percent increase in the number of drug-resistant cases of tuberculosis; and
WHEREAS, the Illinois Department of Public Health is working to promote prompt diagnosis and treatment of tuberculosis cases, implementation of strategies to prevent tuberculosis in children, improved working relationships between public health providers and private providers, hospitals, long-term care facilities, correctional facilities, managed care organizations and others, and decreased tuberculosis transmission in health care facilities and community settings; and
WHEREAS, maintaining control of TB in Illinois requires strengthening current TB control and prevention systems, and progress toward the elimination of TB cannot occur without mobilizing support and engaging in global TB prevention and control; and
WHEREAS, this year's World Tuberculosis Day global theme of "I Am Stopping TB" and national theme of "Partnerships for TB Elimination" recognize that tuberculosis prevention and control is possible, that every individual can have a role in stopping TB, and that Illinois is committed to working toward the elimination of tuberculosis;
Therefore, I, Rod R. Blagojevich, Governor of the State of Illinois, proclaim March 24, 2008, as WORLD TB DAY in Illinois and urge all citizens to increase their awareness and understanding of tuberculosis infection and disease and to join the global effort to stop the spread of this disease.
[Text from file received from the Illinois Office of Communication and Information]