Tourism Bureau Unveils Logan County Visitors' Guide

Send a link to a friend
[March 31, 2008] The Abraham Lincoln Tourism Bureau of Logan County is pleased to announce that their brand-new visitors' guide is ready for distribution. This guide replaces the Historic Lincoln/Logan County brochure as the guide to tourism attractions in the area. "We needed to update our offerings and do it in a fun and visually exciting way," explained Geoff Ladd, executive director of the tourism bureau. "The logo, the imagery, the organization of the guide -- all were designed to get the tourist's interest and give them everything they need, and keep them smiling too."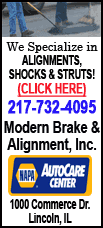 The new guide was designed by McDaniels Marketing in Pekin, and the design includes the main tourism attractions and events in the area.

The local tourism bureau was able to obtain a grant through the Illinois Bureau of Tourism for the project. The remainder of the funding came from area advertising. "This new design incorporates advertising from tourism-based businesses and events in order to showcase more of what Logan County has to offer," Ladd said.

Within the new guide, readers will find much more information than was available in the older version. A new shopping and dining guide is included, as well as a calendar of events for 2008 and 2009, which will assist in vacation planning. More pictures of attractions are featured throughout the guide, showcasing the rich history and bright future of our county. Also in the guide are GPS coordinates for many locations, especially those hard-to-find attractions.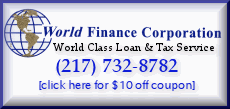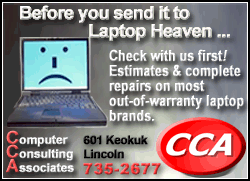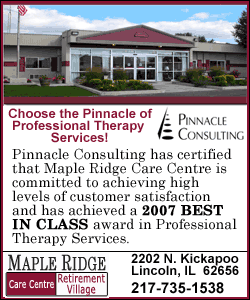 The one feature that will be easy to see on the new guide is a brand-new logo for the Abraham Lincoln Tourism Bureau of Logan County. McDaniels Marketing took the main themes of tourism in Logan County and transformed them into a fun and eye-catching logo, which will be used in future marketing campaigns.
If you're interested in seeing the new guide and checking out what Logan County has to offer, there are several ways to obtain a print copy. The guide will be distributed to tourism information centers throughout Illinois, in many hotels and in tourism attractions throughout the area. You can also request that a copy be mailed to you directly by calling 217-732-8687 or by completing the request form at www.abe66.com. From the online site, visitors may also download the PDF version of the guide directly to their computer. It will be available by April 1 at www.abe66.com.
[Text from file received from Abraham Lincoln Tourism Bureau of Logan County]