Take a walk downtown, stop on a given corner and take a look around. What do you see? Do you see something that might be significant, notable, remarkable, extraordinary? Do you see anything celebrated, old or full of history?

Perhaps if you look at some of the street corner signs, you will see a black half-circle with a courthouse in the center. Around it, you will see "COURTHOUSE SQUARE HISTORIC DISTRICT." The district is on the National Register of Historic Places and encompasses about 10 blocks.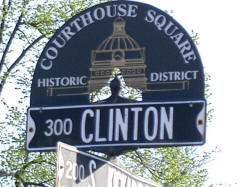 Street sign markers for
Courthouse Square Historic District
What is significant? Actually there are 33 buildings in the Courthouse Square Historic District that have been designated as having special architectural or historic significance. There are 56 notable or contributing buildings, with the most remarkable and extraordinary building being the Logan County Courthouse, completed in 1903. Also noted as significant buildings built during the last decade of the 19th century are City Hall and the Scully Building.
During National Historic Preservation Month, articles will be published about the buildings -- and their owners -- that make up the Courthouse Square Historic District.
(Next: Preservation)
[Text from file received from Wanda Lee Rohlfs, Main Street Lincoln]